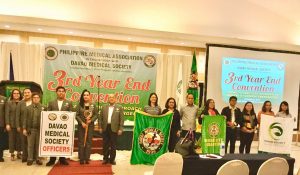 The Davao Medical Society celebrated its convention in cooperation with the Philippine Medical Association with the Theme: "A Practical Approach to Medical and Surgical Emergencies" last October 26, 2019 at the Ritz Hotel here in the city.
Overall Chair for the event was Dr. Luz Acosta-Barrientos, while Convention Chair was Dr. Manolette Guererro with Co-chair Dr. Mae Gallardo. Members were Dr. James Soriano, Dr. Jed Mata. Chair of DMS National Medicine Week was Marievien G. Barett.
Heading the list of speakers was Luz P. Acosta-Barrentos, Ophthalmologist/Oculoplastic Reconstructive and Orbit Surgeon/Cosmetic Surgeon/Stem Cell Transplant Specialist. She is a National Awardee of the Gusi Peace Prize as Most Outstanding Filipino Doctor. She is the current president of the Davao Medical Society and Soroptimist International of Davao.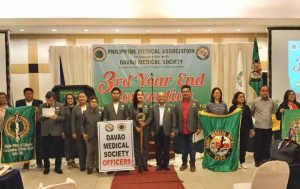 Other speakers include:
Dr. Richard John Pecson, an active consultant, Section of Orthopedics, of San Pedro Hospital and DMSF Hospital, Medical Specialist IV Department of Orthopedics, Southern Philippines Medical Center. He is currently Treasurer and Past President – Philippine Orthopedic Association – South Mindanao. Chapter;
Dr. Eleanor de Borja-Palabyab, Past Chairperson, Department of OB-GYN 1989-1993 and active staff from 1983 to the present Philippine Obstetrical & Gynecological Society – President, Southwestern Mindanao Chapter, 1989;
Dr. James Edward R. Mangaoil – Diplomate, Philippine Board of Surgery and Training officer, Department of Surgery – Davao Doctors' Hospital. He is a Surgical Oncologist at the Davao Doctors' Hospital;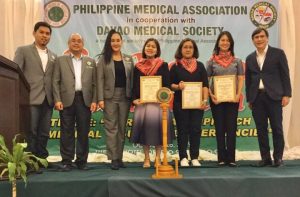 Dr. Wenelito F. Clapano, a Surgical Oncology;
Dr. Karen Lee P. Alabado-Laurel, board member of Philippine Dermatological Society;
Dr. Maria Carmen D. Ang, chair of Drug Allergy Council, Philippine Society of Allergy, Asthma & Immunology;
Dr. Melanie Buscato Adolfo, Medical Specialist II of Southern Philippine Medical Center.
Dr. Bernard S. Chiew and Dr. Veronica Magnaye also gave speeches.