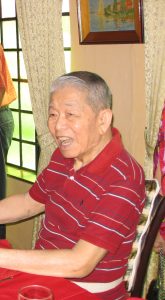 I attended an interesting Food Talk two weeks ago by the talented international Fil-Am chefs, namely Tom Cunanan (Washington, DC), Lanai Tabura (Honolulu, Hawaii) and Charles Olalia (Los Angeles, Ca), at Dusit Thani Hotel who are all confident that Filipino cuisine will take the international scene by storm.
These chefs believe that with the united efforts of our government agencies like the Department of Tourism in its promotion of culinary tourism as one of the country's main attractions, Pinoy cuisine could soon become as popular globally as the other Asian cuisines like Chinese, Japanese, Thai and Vietnamese. While listening intently to the Fil-Am chefs, my cellular phone vibrated.
"It's your tito Nonoy's 90th birthday celebration this November 24 at 11:00 a.m. at Alba Restaurante Espanol at 38 Polaris Street, Bel Air, Makati City. I'm hoping all the Ebro-Dakudaos could come," was my auntie Daphne's text message. Nonoy is no other than lawyer Jose Romana Ebro, Jr. He is the only brother of my mom and my sole godfather.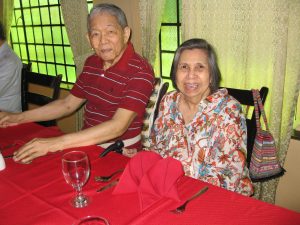 Fly to Manila I did despite my busy schedule in Davao. It was a fine and bright Sunday when my sister, Dr. Marisa Carmen Ebro-Dakudao, fetched me and we made our way to Alba Restaurante. It was the loving couple's kids, namely Mariles, Jose John, Amalia, Manuel Gerard and Casey (all based abroad and who just came to attend their dad's birthday celebration), who welcomed us at the main entrance of the iconic Spanish restaurant of Manila. I could barely recognize my cousins as I haven't seen them for decades.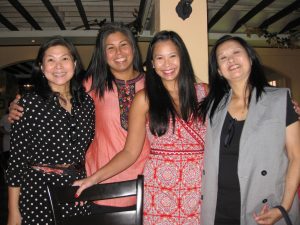 My only ninong and my adopted ninang (I never got to find out until this time if I have a baptismal ninang, so I convinced myself it's Tia Daphne) have always been loving and devoted to each other. They used to visit Davao frequently in the past and stayed at the Marco Polo Hotel. And our Ebro gatherings were always held at the Lotus Court whenever they were around.
Lawyer Jose R. Ebro, Jr. is the fourth child of Datu Bago 2001 awardees, Dr. Jose Militante Ebro, Sr. and his wife, Nurse Mamerta Romana Ebro. He was born in Davao City on November 20, 1929. "After three girls in a row, Concepcion (Nacionales), Elsa (Almeda) and Marietta (Dakudao), mama prayed so hard for a boy. She would kneel from the entrance of the San Pedro Church and move towards the altar asking the Blessed Mother Mary to give her a baby boy to carry on the family name," related tita Lucy Ebro-Pelayo, as she continued, "Nonoy, the flag carrier of the Ebro family, was definitely the favorite mama's boy. After him came myself and your tita Antonietta (Quintos)."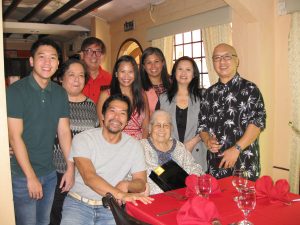 Tito Nonoy graduated from the Davao City High School in 1945. Being intelligent, he then proceeded to study at the Ateneo de Manila University upon the strong recommendation of former Davao City Mayor Rod Sarenas, a close family friend. Sarenas, the eldest son of the prominent Governor Juan Sarenas, was then a registrar of the Ateneo de Manila University. Tito Nonoy graduated with a degree in Law from the prestigious institution along with Davao's former Congressman Manuel Garcia.
The young lawyer first apprenticed in the Atty. Jose Feria Law Office in Sta. Ana, Manila, before going back to Davao to establish his own law firm called Atty. Jose R. Ebro, Jr. and Associates. He had his office in his family's building along San Pedro Street. Tito Nonoy also taught Law at the RMC where one of his bright students was the young Bienvenido Carriaga. Atty. Carriaga would later work in his law firm, and eventually became my mother's favorite lawyer.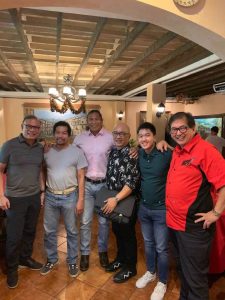 Atty. Jose R. Ebro, Jr. also went into private business, operating his Tagum Electric Company, Tagum Rural Bank, and the Tagum Ice Plant.
It was in 1960 when the handsome and bright Tito Nonoy eloped with the precious unica hija of Manuel A. Gomez of Pampanga and Angeles Jalandoni Hormillosa of Iloilo and Negros Occidental. It is, indeed, in the pampered Tita Daphne that he found an ideal, caring, and loving partner who would cater to his every whim like his own mother did in the past.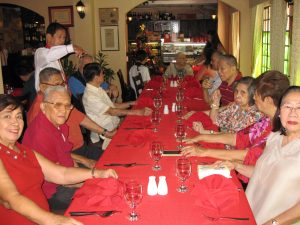 During lunch, Tito Nonoy's former Ateneo de Manila classmates and their wives joined him in the celebration, along with my aunt Elsa Ebro-Almeda and uncle Chito Quintos. Dear Chiqui Suarez-Quintos gave Tito Nonoy a delicious creme brulee birthday cake complete with candles for him to blow. Boy, did it take so much effort for the birthday celebrant to blow the candles on the cake that we had to sing the birthday song repeatedly.
I wish you good health and happiness, Tito Nonoy. Much love, Tia Daphne and cousins.