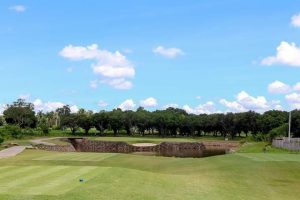 Davao City – Close to a hundred invited golfers are expected to troop to the fairways as the 2019 Santiago Cua Golf Cup tournament tees off on November 30 at the South Pacific Golf and Leisure Estates.
The one-day tournament will be one of the South Pacific Golf and Leisure Estates grand opening's highlights which is expected to be a fun-filled activity for its guests and dignitaries.
According to South Pacific Golf and Leisure Estates tournament coordinator Mariel Perono, the activity will open with a mass and a clubhouse blessing which will start at 10 a.m. to be followed by lunch at 11 a.m. Tee off time will be at 11:30 a.m. via shotgun starts while the awarding ceremonies will be at 4:30 p.m. at the clubhouse.
Dignitaries who will initiate the traditional ceremonial tee off rites are Simeon Cua, Vicente Santos, Santiago Cua Jr., Bobby Dy, Joseph Ng, Leo Magno, Anthony Sasin, Conrad Benitez, Renato Dychangco Jr., Joe Marfori, Fred Pareja and Ten Valenton.
The 160-hectare all weather course under Sta. Lucia Realty Incorporated opened its first nine holes in 2016 then completed the 18-hole full-length layout designed by Mike Singgaran in 2018 which included its tricky greens within a natural setting of ponds and creeks plus its signature island green on hole no. 15.
Special designed trophies are up for grabs to the winners along with hole-in-one prizes for the lucky player who scores a rare ace on a designated par 3 fairway plus raffle items.