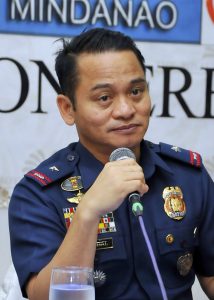 The Police Regional Office XI is ready to deploy PNP personnel to provide additional security for the upcoming plebiscite for renaming Compostela Valley to Davao de Oro, set on Dec. 7.
Speaking in yesterday's AFP-PNP press briefing held at The Royal Mandaya Hotel, Brig Gen. Filmore Escobal, regional police director, said the Compostela Police Provincial Office will lead the security preparations for the political activity.
"Considering the presence of third groups in ComVal, that is why there is a need to augment the police forces," he added.
Escobal said they have not monitored any group opposing the move to change the name of ComVal to Davao de Oro.
"I believe that the plebiscite will run smoothly, "he said.
But he could not guarantee 100% safety because of the presence of the New People's Army in some communities. With that said, the force of the communist rebel group has been significantly diminished since the start of the year.
"I think they are there and we consider them potentially capable of doing minimal atrocities, but our police forces are monitoring them and they are capable of preventing those plans, " he added.
The regional police chief said ComVal Gov. Tyron Uy is very active and supportive of all the initiatives of the AFP, which leads the effort in quelling the NPA threat.
He said they have a meeting yesterday with the Commission on Elections to process the applications to be exempted from the ban on firearms. Escobal said the gun ban started on Nov. 1 and will end on Dec. 14.
Escobal said the processing of the gun ban exemption was delegated to the regional office. "If there are those who want to apply for the exemption of the gun ban and provision of security personnel, the processing is in the region," he said.
Gunowners should apply in Regional Operations Division or R3.