More than 400 traffic violators in the region were fined during the "One-time big-time" law enforcement operation, led by Land Transportation (LTO) XI, on Friday, Nov. 22.
Speaking in yesterday's AFP-PNP press briefing held at The Royal Mandaya Hotel, Lawyer Loida Igdanes, legal officer of LTO XI, said they recorded 477 apprehensions during the national intensified enforcement operation. More than half of the violations, or 245, involved motorcycles.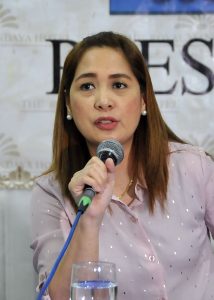 The LTO XI caught 363 motorists, the Traffic Group recorded 111 apprehensions, and the Highway Patrol Group XI recorded three.
The most common fines involved violations to the RA 4136 or the Land Transportation and Traffic Code (245 cases); RA 8750 or the Anti-Seatbelt Law (50); RA 10054 or the Motorcycle Helmet Act of 2009 (37 cases); RA 10913 or Anti-Distracted Driving Act (18 cases); and nine vehicles were impounded for not being unregistered.
Meanwhile, 48 motorists were fined for violation of Sec. 32 of RA 4136, which prohibits passengers on the cargo bed.
Also during the operation, she said the niece of President Rodrigo Duterte was flagged down for using an expired driving permit, and commemorative "Duterte" plate.
"Actually she was not apprehended but only warned because of the use of a commemorative plate, " Igdanes said.
She added that Duterte's niece was not aware of the ban on commemorative plates because she has been living overseas for so long. Any foreigner is allowed to use their foreign driver's license for three months after arrival.
If the period lapsed, they would be fined P3,000.
"For the foreign citizen they are allowed to drive in the city provided they have a foreign and valid license within 90 days," she said.
Meanwhile, she explained that last Sept 18, an order was released for the strict implementation of Section 32. The City Council has passed a resolution to relax the apprehension, and LTO XI forwarded a copy to the central office. The lawyer said they haven't received a reply yet.
However, she said that based on their conversation with the assistant secretary of their office, the resolution will hardly make an impact because RA 4136 is already a law.
"The safety of the passengers is our primary concern, that is why it was implemented," she added.
She further explained that for the pick-up and cargo trucks, they are only allowed one or two passengers at the back, provided there are cargoes.
The LTO imposed a moratorium during All Souls Day and All Saints Day, as well as the relief operations for the quake victims. But they are now resuming their apprehensions.