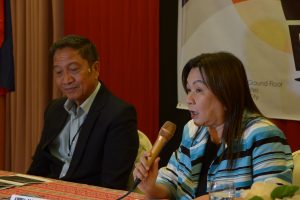 A subdivision in Makilala, North Cotabato sustained damage due to the series of strong earthquakes, an evaluation report from Home Mutual Development Fund (Pag-ibig) revealed.
According to the report, 102 houses of the total 206 in the Golden Gate subdivision sustained cracks and damage—86 of them are ordered condemned.
The PAG-IBIG Fund, in its role to aid affected property owners, already took action on the affected homeowners.
Atty. Marie Antoinette Diaz, Housing Loan Operations VP for VisMin, said that appraisers fanned out to the different areas in Mindanao to conduct inspections of Pag-Ibig-owned properties. They found out that one of the most affected was Makilala.
"We are still inspecting Tulunan, Magsaysay, and Kidapawan, aside from Golden Gate in Makilala, to make sure that we can check on these damaged properties," she said.
In Kidapawan, reports also showed that 387 units with no specified location also acquired minor damage and are still habitable.
"So what did Pag-ibig do for these borrowers? One of our managers in Davao City and a lawyer were invited, together with the representative of our Property Evaluation Division or the appraisers, and the staff of the Loan Management Division, to help asses and work together to help property owners who were affected by the earthquakes," she said.
She also said that some representatives were hired to process insurance claims and help property owners with the requirements.
"So, they went there and talked with the landowners and explained what they need to submit to have the claim for the damage of their properties," she also said.
"In the case of non-life insurance, we have seven calendar days from submission of complete documentary documents to approve their claims. They just need to write down an estimate of the damage including the minor damage," she added.
The non-life insurance covers all risks of material damage caused by typhoons, fire, flood, lightning, and earthquake. It also includes damage caused by terrorism and sabotage and the general liability, which covers third-party damage and partly bodily injury.
"This (processing) will easy as the local government already declared these places under the state of calamity," she said.
Diaz also admitted that hiring a licensed engineer would be expensive, but they can ask accommodation from their insurance provider to hire carpenters instead.
"If we let the licensed engineers sign for the bill, it will be expensive. Luckily, it was agreed that even a carpenter can already do this," she said.
According to her, they also conducted initial inspections on the validity of the claims of those who were affected by the quakes. "Last Saturday, we already had an initial inspection as per insurance adjuster. That's really a practice in insurance to double-check the validity of claims," she said.