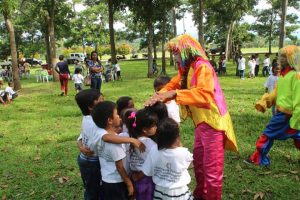 The Philippine Army's 71st Infantry "Kaibigan" Battalion parterned with different agencies, local government units, and private companies for the successful Lakbay Bata 2019 at Robinson's Place and Energy Park in Tagum City on Friday, Nov. 22.
Almost 300 children and parents belonging to the least privileged families from the outskirt sitios of Barangay Anitapan, Golden Valley, Cabuyoan, Cadunan and Libudon–all of Mabini, Compostela– participated in the activity.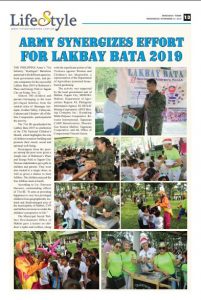 The 71st IB spearheaded the Lakbay Bata 2019 in celebration of the 27th National Children's Month, which highlights the role of children in nation-building and promote their moral, social and spiritual well-being.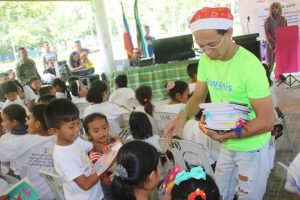 Participants from the poorest among the poor were given a simple tour of Robinson's Place and Energy Park in Tagum City. Various stakeholders gave gifts to children and parents. They were also treated to a magic show, as well as given a chance to meet Jollibee. The children enjoyed the free Jollibee meal at lunch.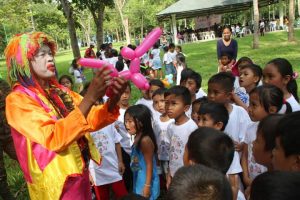 According to Ltc. Esteveyn Ducusin, commanding officer of 71st IB, "It aims at providing happiness to very less privileged children from geographically isolated and disadvantaged area of the municipality of Mabini, CVP and further envisions to widen the children's perspective in life."
The Municipal Social Welfare Development Office of Mabini gave a lecture on children's rights and welfare, along with the significant points of the Violence against Women and Children's Act. Meanwhile, a representative of the Department of Agriculture promoted home-based gardening.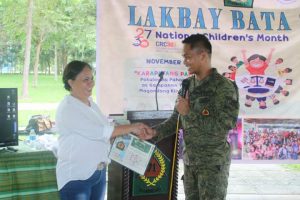 The activity was supported by the local government unit of Mabini; Tagum City; MSWDO-Mabini; Department of Agriculture Region XI; Philippine Information Agency XI; HEXAT Mining Corporation; APEX Mining Company Inc.; Koopking Multi-Purpose Cooperative; Kiwanis International; Tagnanan CARP Beneficiaries; Phoenix Gas Station Mabini; Tagnanan Cooperative; and the Office of Congressman Vincent Garcia.