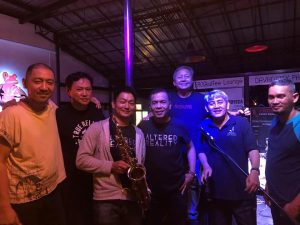 "With MT. Apo in the background, the sun bid adieu in glorious pink, blue, and orange with the classic sound of vintage jazz coming alive with Dave Brubeck's 'Take Five' as only the band, ALTERED REALITY, can render," writes Daryl Descallar of the art group Tabularasa.
It was an enchanting evening last Oct. 24 at the roof deck called The View of Blue Lotus Hotel, when the muses melded: visual arts and music, in the 1st Sunset Jazz and Art event. The audience, mostly businessmen and professionals of a certain age, listened to music they have not heard for a very long time, bringing them back to the good ol' days of their youth.
Tony Peralta, who brings the group together, said Altered Reality was formed on April 16, 2019, as a result of collaborative efforts of Davao based musicians who wanted to craft their own version of progressive jazz and blues music. The band is probably one of the few groups in the city that plays progressive jazz and blues with a texture of ska and reggae.
The group is composed of seasoned musicians who have played with various groups here and abroad. The group members are:
Benny Echavia (vocals, guitar and bass guitar). Benny is one of Davao City's best guitar and bass players. A self-taught musician, Benny has played with several and has established himself as a jazz musician. He draws his musical inspiration from guitar greats such as George Benson, Earl Klugh, Eric Clapton, BB King, George Harrison, Carlos Santana among others.
Rannie Yu (keyboards and vocals). Rannie is an accomplished keyboard player who has performed as a solo artist and with other groups. His playing style is akin to the great Eumir Deodato and draws his inspiration from the likes of jazz keyboard players like Herbie Hancock, Joe Zawinul, Chick Corea, Dave Grusin, Joe Sample, and Ahmad Jamal.
Pastor Fred Cavan (Tenor Sax, Flute & Cello). Pastor Fred is a well known and professional musician known for his work in musical arrangements having studied at the Julliard School of Music in New York. He has arranged almost all of the songs that are played by Altered Reality in its shows. He draws his inspiration from Dave Brubeck, Miles Davis, Herb Alpert, Noel Pointer, Wynton Marsalis, and Benny Goodman.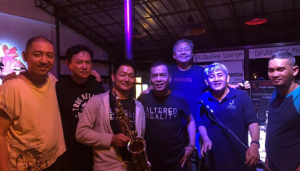 Noven Bravo (Saxophone). Noven is a seasoned saxophone player who has played with several groups here in Davao and other places abroad. He started playing at the age of 17 as a member of a local band. He mainly draws his musical inspiration from jazz greats like John Coltrane, Stan Getz, Wayne Shorter, Art Pepper, and Candy Dulfer.
Jose Antonio Mambaje (Guitars and Vocals). Jonas is an established guitar player who has played with rock, reggae and ska groups in Davao City since the 90s. He is a music teacher in a well-known university and draws his musical inspiration from well-known guitar players like Eric Clapton, Ritchie Blackmore, Wes Montgomery, Pat Metheny, Larry Carlton, and Al Di Meola.
Don Gundaya (Trumpet). Don is a seasoned trumpet player who also teaches music at the Davao School of the Blind. Don has played with several groups here and abroad. He started playing the trumpet at an early age. His musical influences were Wynton Marsalis, Herb Alpert, Al Hirt, Freddie Hubbard, and Chris Botti.
Zed Casiliana (Vocals, Drums & Percussion). Zed is the youngest in the group. Zed has played with several local groups and has developed his own playing style. He draws his musical influences from well-known drummers such as Art Blakely, Max Roach, Billy Cobham, Ringo Starr, Steve Gadd, and Ginger Baker. Zed is also an accomplished chef.
Jay Vincent Ravinia (Trombone). Ram as he is known, is an accomplished trombone player. Ram draws his musical inspiration from Delfeayo Marsalis, Roswell Rudd, Wayne Henderson, and Bruce Fowler. He is also a music teacher.
Tony Peralta (guitars and vocals). Tony draws his musical inspiration from Jim Morrison, Eric Burdon, Joe Cocker and Bruce Springsteen.
Tony is also known as an active business leader who is currently the Chairman of the European Chamber of Commerce of the Philippines – Southern Mindanao Business Council and as Corporate Secretary of the Japanese Chamber of Commerce of Mindanao. He is also the Executive Director of FREEDOM Inc. (a Davao based NGO).
Altered Reality has also other musicians who collaborate with them. Among these musicians are Davao based Japanese musicians led by Ichido Miyake (guitars), Atsuto Fujimoto (saxophone), Takakazu Machida (violin). Altered Reality regularly plays at Frog Kaffee 2 to 3 times a month. Frog Kaffee is located along F. Torres St., Davao City. They also play at the Blue Lotus Hotel and will be launching soon the Sunday Sunset Jazz and Art Club in partnership with Tabula Rasa.