The climb is steep, but the Philippines hopes to win some of the medals at stake when chess returns to the coming 30th Southeast Asian Games after being absent in two editions of the biennial meet.
Well-prepared teams in the rapid and blitz competitions are expected to boost the host country's efforts to come up with a podium finish.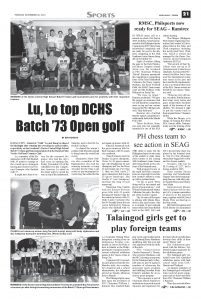 "So far so good. We're doing well in our mental and physical preparations," said Women's International Master Catherine Secopito, the skipper of the women's squad.
The 34-year-old Secopito is playing with Shania Mendoza in the rapid events. She is a remnant of past national teams which have been fielded back in the 2005, 2011 and 2013, the last time chess was played in the biennial meet in Nay Pyi Taw, Myanmar, where they bagged two silver and two bronze medals.
Secopito, who has an ELO rating of 2127, had a bronze medal in 2005.
Their coaches Jayson Gonzales and Grandmaster Eugene Torre have been prepping them up with blitz players Janelle Frayna and Cherry Ann Mejia.
International Master Daniel Quizon will be also part of a younger generation of players in the national team, together with IM David Elorta. They are lined up in the blitz event.
IM Paulo Bersamina and FIDE Master Jan Emmanuel Garcia, on the other hand, will compete in the rapid event.
Grandmasters Joey Antonio and Darwin Laylo, meanwhile, compete in the ASEAN chess event. Antonio, Jr., for one, is keeping himself sharp competing in the 2019 World Senior Chess Championship in Bucharest.
The last time the Philippines hosted the SEA Games, Vietnam swept all of the six gold medals up for grabs. And the Vietnamese are again going flat out in the coming chess competitions slated from Dec. 1 to 8 at the Subic Convention Center, where they will be fielding Quang Liem Le and Ngoc Truong Son Nguyen.
Le is currently the no. 1-ranked player in Vietnam and no. 21 in the world. He is the 2013 World Blitz Chess champion.
"It will be tough, but we'll make the best effort out there, na maganda ang preparation at psychologically prepared," Torre said.
GM Wesley So, who now represents the United States, was the last Filipino to win the a SEA Games gold during the 2011 Indonesia SEA Games.