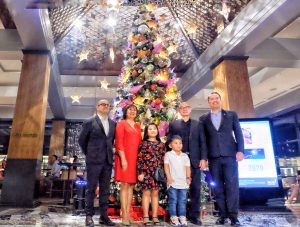 DusitD2 Davao and Dusit Thani Residence Davao marked the beginning of Christmas season with their Christmas tree lighting ceremony last November 23, Saturday at their main lobby.
DusitD2 Davao, Dusit Thani Residence Davao and The Beach Club at Lubi Plantation Island general manager Christopher Wichlan was joined by hotel manager Laurent Casteret, City Tourism Officer Generose Tecson, and premier event designer Jerry Sibal, who also created the giant Christmas tree that featured creative elements inspired by Mindanao fabrics.
During the program, guests were serenaded with gleeful carols by Tunog, a children's rondalla from ComVal, Koro Aguinaldo and Who Is Nash? at dusitD2 Davao's Siam Lounge.