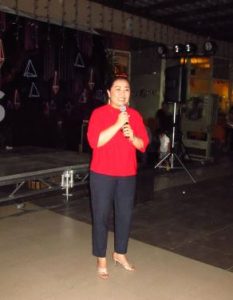 As Metro Manilans are enjoying the Festival Lights of the Ayala Triangle Gardens by this time of the Christmas season, Davaoenos, too, get to experience this well-loved light show. Ayala Malls Abreeza launched its first Festival of Lights in Davao City at the 3F Roof Garden last November 20. The launch was the start of a nightly spectacle of bright, colorful and dancing Christmas lights accompanied by joyful Yuletide carols that will run until January 6, 2020.
Shoppers will surely enjoy themselves as they gather with family and dear friends at the Roof Garden and marvel at six-minute light shows that play every 30 minutes beginning at 6:00 p.m. till the mall's closing time. For sure people of all ages will relax and delight themselves in watching the well choreographed dancing lights change colors and designs according to each show's musical theme for the night. Yes, featured music include upbeat English techno music to soothing jazz music to popular Pinoy tunes one can sing along with.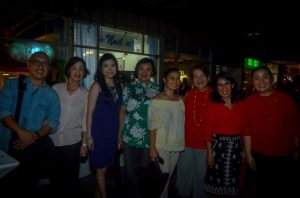 Leading the launching of the Festival of Lights last Wednesday were the friendly Ayala Malls Abreeza Gen. Man. Janice Parreno, the well-loved Marketing Manager Ruby Bueno-Ochoa, Abreeza Central Estate Association Manager Luigi Escano, the hardworking City Tourism Office Head Generose Tecson, and Davao Tourism Association VP Susabel Reta.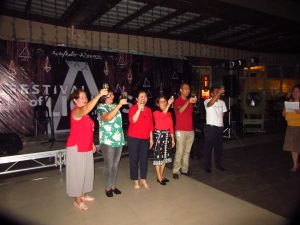 "This Ayala Land signature event is set to awaken a dazzling Christmas holiday celebration among the various communities throughout the country. As of tonight, other shows are held simultaneously at the Ayala Triangle Gardens, Ayala Malls Centro in Cagayan de Oro City, Ayala Center Cebu, Bonifacio Global City in Taguig, and Ayala Malls Capitol Central in Bacolod City," divulged Ruby Ochoa who came dressed as brightly in a red blouse with a native-inspired, beaded black skirt.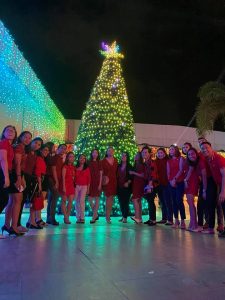 "Abreeza continues to build up the Yuletide mood for all who visit with its Christmas thrill and deals. Abreeza's mall-wide 'Paint the Town Red Pre-Christmas Sale' is on going until this Sunday, November 24. All customers who shop or watch movies at Abreeza from November 15 to December 15 are also entitled to fantastic prizes and Christmas giveaways with the Great Christmas Dash. With the Noche Buena Bonanza, shoppers who can present two same-day cinema tickets at the Main Concierge will get the chance to be among the five lucky winners of Robinsons Supermarket gift certificates worth P10,000 each. With the 1-Minute Gift Grab, shoppers who can present a P10,000 same-day receipts from any Abreeza store,
Robinsons Department Store or Robinsons Supermarket at the Main Concierge will get the chance to be among the five winners of the one-minute gift shopping spree worth P30,000.00 at the Robinsons Department Store," informed GM Janice Parreno.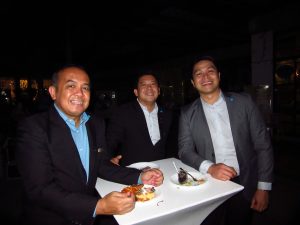 Guests were also invited to savor the delicious merienda cena goodies at the Grazing Station set up by My Home Kitchen. Naturally, everybody was in a happy mood to take selfies.
Thank you, dear Ruby Ochoa, for inviting me.