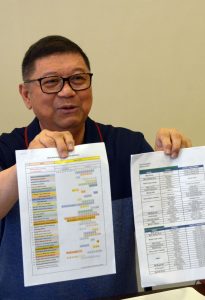 Davao City – Philippine Sports Commission (PSC) chairman William "Butch" Ramirez took time to shed light on the controversial SEA Games cauldron issue on Wednesday (November 20).
Ramirez who is also the SEAG chef de mission of the country to this year's edition of the Games explained the PSC's position after the senate hearing Tuesday (November 19) regarding the P55-million stadium cauldron or "kaldero" as for design and construction which will be used for the torch lighting ceremony at the opening of the biennial meet on November 30.
"The P55-million stadium cauldron is part of the PSC's budget for hosting the SEA Games. However, that budget was given to the organizing PHISGOC (Philippine Southeast Asian Games Organizing Committee) which took charge for the design and construction of it," Ramirez said.
The controversial P55-million stadium cauldron was questioned by Senate Minority Leader Franklin Drilon in which he referred as "excessive" during the senate hearing.
House Speaker and PHISGOC chairman Alan Peter Cayetano who was on Tuesday's senate hearing defended the controversial cauldron, saying it is cheaper than what was built by Singapore four years ago, that cost around P64 million. He also bared the cauldron was designed by the late Francisco Manoza, a National Artist for Architecture.
With that price of P55-million, Ramirez said that it will be PHISGOC who will liquidate on their expenses when inquired by the Commission on Audit (COA).
"We are a funding agency so it's the PHISGOC who will be checked by the COA regarding their expenses. The PHISGOC did all the transaction on that," he said.
Furthermore, Ramirez also stressed that the venue which will be used during the SEA Games will be complete come scheduled playdate.
"We are on schedule," Ramirez said.