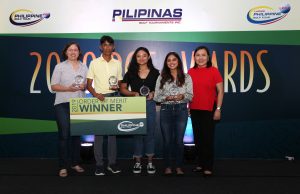 Despite missing three tournaments, Princess Superal still kept her Ladies Philippine Golf Tour Order of Merit crown, anchoring her latest feat on a victory, two runner-up finishes and four top 10 efforts in the just concluded seventh season of the country's premier ladies circuit.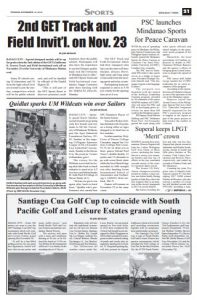 The former US Girls' Junior champion actually needed to endure a long winless run before finally hitting paydirt at John Hay where she also reigned, then as an amateur, in the circuit's inaugurals in 2013 in record fashion.
But before recording her first and only win last July, Superal had placed second at Splendido and Manila Southwoods, turned in fourth and fifth place finishes at The Country Club Ladies Invitational and Beverly Place, respectively, and ended up seventh at Pradera Verde and Mt. Malarayat.
Counting her joint 21st place stint at Manila Golf, Superal earned P1,164.604, edging 2017 OOM winner Pauline del Rosario, who also missed a number of events but still finished second with P955,082, including a runaway victory at Royal Northwoods.
Former Junior World champion Daniella Uy, who rallied to salvage joint fourth in the closing leg at the Party Golfers in Taiwan, placed third with P920,644 in winnings followed by 2016 OOM titlist Chihiro Ikeda (P836,745) and Southwoods leg winner Thai Thanutra Boonraksasat (P613.744).
"This is sweet and it means a lot to me," said Superal, adding that she actually didn't expect to score a repeat given the quality of competition where the Thais reigned at Manila Golf (Arpichaya Yubol), Mt. Malarayat (Nemittra Juntanaket) and Boonraksasat (Southwoods) with Korean Hwang Min Jeong winning at Splendido and Summit Point.
"It was really surprising but I promised to do better and try to win more tournaments next season," added Superal, who will be trying to match Cyna Rodriguez's three-peat feat from 2013-15.
Superal shared the spotlight with sister Eagle Ace, who bagged the best amateur title, and PGTI general manager Colo Ventosa, also the GM of TCC, named as the best host venue following its successful staging of the first TCC Ladies Invitational which featured no less than the then world No. 1 Sung Hyun Park of South Korea.
Juvic Pagunsan had earlier clinched the PGT OOM diadem by posting a couple of records, vying in just five of nine tournaments and winning four in consecutive fashions. But the region's former No. 1 missed the awards rites as he was in his base in Japan priming up for the rich Dunlop Phoenix Open starting Thursday in Miyazaki. Receiving his award was brother Mario.
Rounding up the LPGT OOM top 10 are Dottie Ardina (P703,000), Thais Pimpadsorn Sangkagaro (P643,777), Chakansim Khamborn (P530,586), and Yupaporn Kawinpakorn (524,070) and Hwang (P483,676).