Davao City – Some 100 entries are seen to join the 2019 Santiago Cua Golf Cup tournament which will coincide with South Pacific Golf and Leisure Estates grand opening this November 30.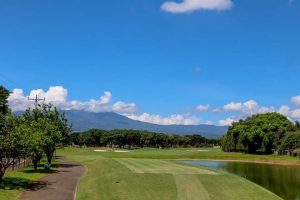 "It will be a fun-filled golfing activity for our guest and dignitaries which will have hole-in-one prizes and many raffle prizes," said South Pacific Golf and Leisure Estates tournament coordinator Mariel Perono.
The activity will open with a mass and clubhouse blessing at 10 a.m. to be followed by lunch at 11:30 a.m.
Tee off time for the tournament will be at 11 a.m. timely for the awarding rites at 4:30 p.m.
Dignitaries who will initiate the traditional ceremonial tee off rites are Simeon Cua, Vicente Santos, Santiago Cua Jr., Bobby Dy, Joseph Ng, Leo Magno, Anthony Sasin, Conrad Benitez, Renato Dychangco Jr., Joe Marfori, Fred Pareja and Ten Valenton.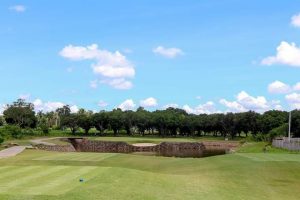 The 160-hectare all weather course under Sta. Lucia Realty Incorporated opened its first nine holes in 2016 then completed the 18-hole full-length layout designed by Mike Singgaran in 2018 which included its tricky greens within a natural setting of ponds and creeks plus its signature island green on hole no. 15. On grand opening day will also present its elegant clubhouse which is fit to hold golf awarding ceremonies together with its sumptuous food and friendly personnel.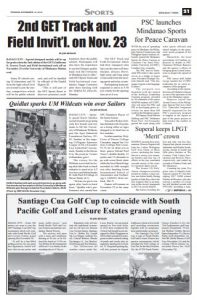 The Santiago Cua Golf Cup is part of South Pacific Golf and Leisure Estates last quarter tournaments which included the UM College of Law Par for the Bar (October 26), the ICTSI South Pacific Classic (October 8-12), the 11th Eaglemasters golf tournament (September 19-22), 3rd PhilSan VisMin Davets Open (September 13), Davies Paints Golf (September 12), 2nd SB (Stella Barnes) Golf Cup (November 16) and the coming UPLB Alumni Association Davao Inc. Golf (November 24).