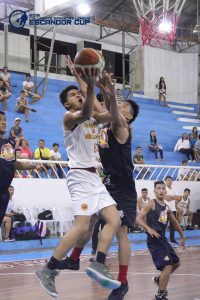 Davao City – Spritely guard Karlo Quidlat scored 22 points to go along with five boards and two steals to lift the University of Mindanao Wildcats past the Agro Industrial Foundation Sailors, 89-82, Sunday in the ongoing Collegiate Sponsors League (CSL)-Escandor Cup basketball tournament, Sunday at the Davao City Recreation Center (Almendras gym).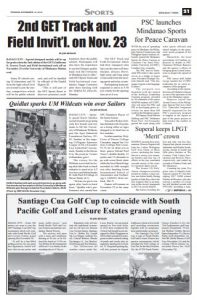 The victory for the Wildcats was to halt its losing skid after back-to-back setbacks to stand at its 4-2 win-loss card behind leader St. John Paul II College of Davao Saints (4-1).
"At least we got to win again after back-to-back loses," Quidlat who's performance also earned him SPC-Mandarin Player of the Game honors.
Top sailor Redyn Arellano finished with 18 points on a losing effort as Agro dropped to its third loss in five matches.
In other matches, Holy Cross of Davao College Crusaders nipped the Cor Jesu College Red Lions, 91-75 for its third win in three games behind Paul Turco's double-double 12 points and 13 rebounds to go with seven block shots while the Jose Maria Kings recorded its fifth straight win after handing Asian International School of Aeronautics and Technology's (AISAT) third setback, 106-71.
Games will resume on November 22 at the same venue.