With the aim of spreading peace in Mindanao, the Philippine Sports Commission and Philippine Sports Institute officially opened the Mindanao Sports for Peace Caravan at Cotabato City State Polytechnic University (CCSPU), Cotabato City yesterday.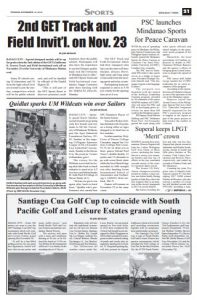 The PSC and its brainchild PSI believe that sports serves as a bridge to peace since President Rodrigo Duterte himself said: "The language of sports is the language of peace."
The program was launched with the launch of the Ate/Kuya Leadership Training program, attended by 50 volunteers of the senior MAPEH students of CCSPU, who will assist the PSC and PSI in developing sports activities for more than 500 youth in the Mindanao region.
PSI Deputy Head Marlon Malbog and PSC Mindanao Head Prof. Ed Fernandez graced the event along with other sports officials and shared insights on the grassroots sports program of the agency.
Meanwhile, the local government of Cotabato expressed its thanks to PSC Chairman William Ramirez and the agency's efforts in bringing sports to their hometown to deepen the spread of peace.
PSC senior staff Judith Laygo lauded the CCSPU leadership for its warm acceptance of the program.
According to the reports, the town of Cotabato is known as one of the epicenter of the riot in the Mindanao region.
Ramirez bared that Armed Forces of the Philippine Special Services Chief Col. Taharudin Ampatuan himself requested for the PSC's grassroots program to happen in the region as part of the peace process to help resolve the conflict in Cotabato.