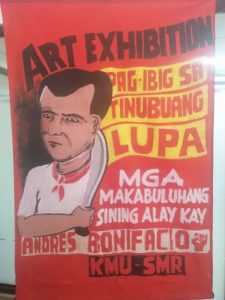 The Kilusang Mayo-Uno Southern Mindanao mounted an art exhibit to pay tribute to one of the country's heroes, Andres Bonifacio, in honor of his 156th birthday on November 30.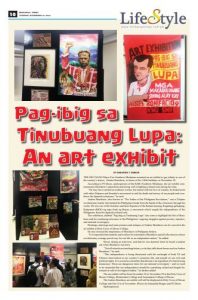 According to PJ Dizon, spokesperson of the KMU-Southern Mindanao, the art exhibit commemorates Bonifacio's patriotism and strong will in fighting colonial rule during his time.
"He may have seemed an ordinary worker, but armed with his love of country, he linked arms with other Filipinos and founded a movement to end the death and misery of our people and overthrow the Spanish colonizers," he said.
Andres Bonifacio, also known as "The Father of the Philippine Revolution," was a Filipino revolutionary leader who helped the Philippines break from the hands of the colonizers through his works. He was one of the founders and later Supremo of the Kataas-taasang, Kagalang-galangang, Katipunan (KKK) ng mga Anak ng Bayan, a movement which sought the independence of the Philippines from the Spanish colonial rule.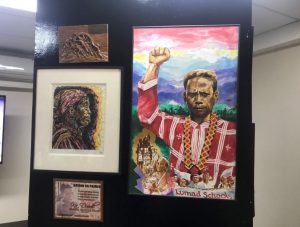 The exhibition, dubbed "Pag-ibig sa Tinubuang Lupa" also aims to highlight the life of Bonifacio and his continuing relevance to the Philippines' ongoing struggles against poverty, injustice, and national sovereignty.
Paintings, drawings and some pictures and antiques of Andres Bonifacio can be viewed in the art exhibit at Holy Cross of Davao College.
He also stressed the importance of Bonifacio in Philippine history.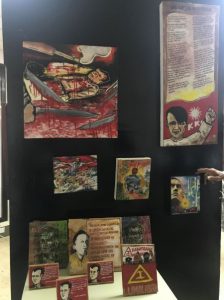 It is important that students and workers be reminded of Bonifacio and all other heroes whose revolutionary courage paved way for our life as an independent nation," he added.
Dizon, during an interview, said that he was alarmed when he heard a student ask when Bonifacio was born.
"Not all schools are teaching history, or do they talk about heroes such as Andres Bonifacio," he said.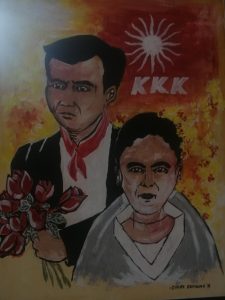 "This independence is being threatened with the onslaught of both US and Chinese intervention in our country's economic life, and assault on our civil and political rights. It is crucial to remember that dissent is an ingredient of a functioning democracy. These are dangerous times for our national sovereignty – and we need to be reminded that our independence should be something valued and fought for, instead of sold to the highest bidder," he further added.
The art exhibit will be from November 18 to November 29 at the Holy Cross of Davao College, Brokenshire College and Assumption College of Davao.
The Andres Bonifacio art exhibit will still be displayed at Holy Cross of Davao College until the 21st of November. (Photos by Samantha Burgos and PJ Dizon, Spokesperson)