Davao City – Special designed medals will be up for grabs when the 2nd edition of the GET (Guillermo E. Torres) Track and Field Invitational reels off on November 23 at the University of Mindanao Matina oval.
Some 20 schools noting 10 elementary and 10 from the high school level are invited to join the one-day competition which w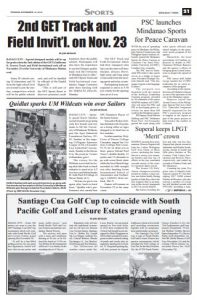 ill be for public schools only and will be handled by officials of the DepEd Region XI.
"This is still part of the GET Sports thrust to discover potential youth tracksters from the public schools. Participants will also have the experience to use the Olympic quality track oval the University of Mindanao has to offer," said GET Sports Track and Field Invitational coordinator Jinggo Camomot after their meeting with the DepEd-XI officials, Monday.
The GET Track and Field Invitational which had their inaugural stint last year this time will have shotput, discuss throw, high jump and long jump events aside from the existing sprint and relay events.
Participating teams are expected to arrive at 5:30 p.m. timely for the opening rites set at 6 a.m.