All sorts of local crafts along with interesting organic delicacies can be found inside The Beehive Camiguin Driftwood Cafe in Catibac, Catarman, Camiguin.
The cafe may seem off the usual tourism grid, visitors still find their way to sample Belgian national Raphael Lemmens' coffee and other local and European-inspired treats in his cafe by the sea since he built it around a decade ago.
Lemmens is not only known in the island as food connoisseur and coffee maker, he is also an artist, entrepreneur and farmer.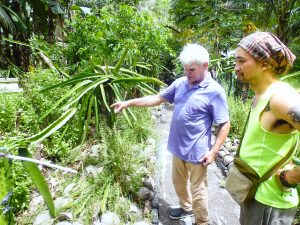 "I enjoy being a farmer. In fact, I have a coffee farm at the foot of Tres Marias (a three peak volcano in the island). I love the local coffee here in Camiguin. The volcanic soil has done a lot of good to its taste," said Lemmens.
During our visit to his cafe, he allowed to sample various coffee concoctions, such as Italian, Russian, Moroccan, Vietnamese, French press, and Caribbean, to name a few, along with herbed ice cream in different tasty flavors, like moringa, dragonfruit, and even lanzones.
"We have coffee from other places, like Bukidnon, but I'm also introducing macadamia coffee. In fact, I have also started to farm macadamia but I'm still trying to perfect it," he said.
Back in the day, Lemmens used to peddle different varieties of coffee in Belgium and even studied during his stint in Thailand.
"Since my stay in the island, I have been sharing my knowledge on coffee to local farmers, hoping that it could help improve their yield and lead them to the right market," he shared.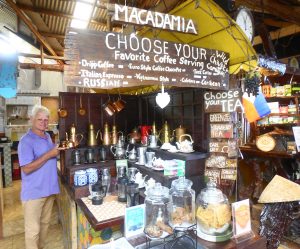 Interestingly, though, it wasn't coffee that lured him initially to Camiguin. At that time, he was in search for the best place where he can breed queen bees that he can supply to the bee producers in the country.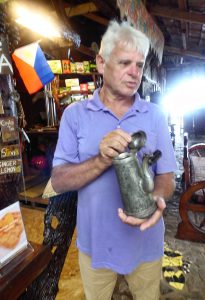 "It is better to breed bees in an island like Camiguin as they don't fly away and escape. They're able to keep their genes intact," he said.
Lemmens started to import his bees from Russia nine years ago and became successful in breeding them and in the production of honey that he use as alternative for sugar for the fares that he serve in the cafe.
From his bee project, one thing led to another, including his pet coffee farming.
He also gave us a quick tour of his garden right across the cafe – a virtual wonderland of herbs, spices, vegetables and fruits, something that he wants the local farmers to emulate.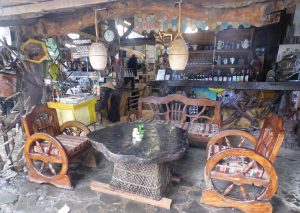 "Camiguin gave me a lot of surprises and I love sharing them back to the people in Camiguin," he said.
After introducing macademia coffee in the island, I asked him what he plans to do next.
"I want to make Camiguin the country's Macadamia Capital. It's a long shot but who knows," he said with a hopeful smile.