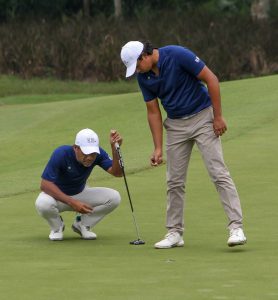 Sta. Rosa, Laguna – Team North struck back in foursomes, pulling of its own version of a 4-2 romp over South yesterday to force a tie at six and turning today's 12 singles matches into a shootout for The Duel – North vs South crown at Sta. Elena here today.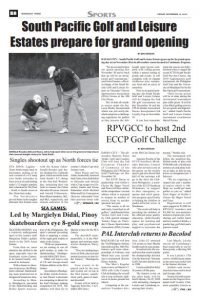 The Northerners proved better in the tougher alternate shot format event with the Keanu Jahns-Gerald Rosales and Justin Quiban-Eric Gallardo pairs, which saved the team from South's 4-2 charge in the four-ball Wednesday, sustaining their top form to trounce the Elmer Salvador-Reymon Jaraula and Arnold Villacencio-Rene Menor tandems, 3&2, and 4&2, respectively, and remain unbeaten in the country's Ryder Cup-style format event.
Mars Pucay and Ira Alido, meanwhile, bounced back from a four-ball defeat to Salvador and Jaraula with a 2-up escape over Zanieboy Gialon and Jerson Balasabas while Michael Bibat and Eric Concepcion likewise rebounded from their previous losses with different teammates with a 4-3 victory over Rufino Bayron and Jhonnel Ababa to actually give North the lead with one match left in another calm day at the well-kept par-72, 6960-yard layout.
But North missed completing a big rout as James Ryan Lam and Joenard Rates blew a 3-up lead after nine holes and lost steam at the finish, enabling Tony Lascuña and Nilo Salahog to hack out with a 2-up victory, their second straight, and salvage a key point for South.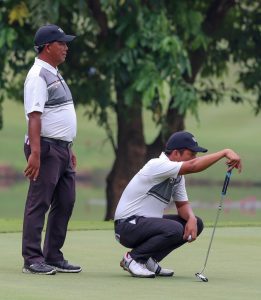 Jay Bayron and Albin Engino earlier provided the other win for South via a 6&5 roll over Jobim Carlos and Jun Bernis.
With six points apiece in team play, the title chase comes down to individual skills with South out to exploit its edge although North has the materials to slug it out shot-for-shot and putt-for-putt with its fancied rivals in the singles tipped to go down to the last pairing.
"They played hard to win and did it," said North coach Cookie La'O, who steered the team to a three-point win at John Hay last year that cut South's Duel series' lead to 2-3. "Now it's even, I just hope they'll duplicate their victory."
As defending champion, North needs just six wins in the singles to keep the crown while South must score 6.5 points to reclaim the championship in the highlight event of the 10th season of the Philippine Golf Tour sponsored by ICTSI and organized by Pilipinas Golf Tournaments, Inc.
South mentor Charles Hong expressed disappointment over his wards' showing but remained hopeful they would still pull it off in the end and reclaim the crown worth P80,000 to each member.
"We're all unhappy, disappointed over their mediocre play," rued Hong. "There's no more strategy in singles. It's a test of individual skills. Kanya-kanyang kayod."
North looks to have the edge in the first face-off at 7:20 a.m. as Alido takes on Villacencio while Pucay and Lascuña brace for a duel of veterans at 7:28 a.m. to be followed by the Quiban-Rufino Bayron clash, Jahns vs Ababa, Carlos against Engino, Rosales vs Balasabas, Gallardo against Menor, Bernis vs Jay Bayron, Lam against Salvador, Rates vs Jaraula, Concepcion vs Gialon, and Bibat against Salahog.