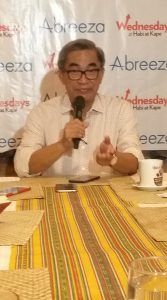 The Davao City Chamber of Commerce and Industry is developing a business continuity program to help the sector, particularly the micro and small enterprises, sustain their operations during calamities.
At the Wednesdays @ Habi at Kape –Abreeza Arturo M. Milan, president of the chamber, on Wednesday said that the group, which is tapping the Asia Pacific Alliance for Disaster Management (A-PAD) to help in the crafting as well as implementation of the program, may implement it early next year.
According to its website, A-PAD "is a transnational disaster aid alliance that works to facilitate cooperation and understanding between government, private companies and NGOs (non-government organizations) in the Asia Pacific Region."
Milan said that micro and small enterprises need to "change their mindset" and must adopt the business continuity program. "That (investment in business continuity program is just an expense) is really a normal mindset (among micro and small enterprises)," he said, pointing out that most medium and large businesses have their respective continuity programs.
"A business continuity program protects the business and lessens impact of disasters," he said, adding that with the partnership with A-PAD will help micro and small enterprises prepare them for disasters.
The program prepares the business and its employees on what to expect and how to act during disasters.  "That's part of how you plan based on location, the people and the processes that you (businesses) will do," he said.
The challenge in the orientation for the program is that most micro and small enterprises, their owners are sometimes the only employees and that they cannot be away from their businesses for two days, the period it would take to educate them on the program.
This is reason, Milan said, he has requested A-PAD to come up with a shorter program. "I want it templeted so that it would be fill in the blanks only (for micro and small enterprises in drafting the respective programs)," he said.
He agreed that micro and small enterprises "don't have that luxury" of having more employees, some of them will have the sole task of implementing the continuity program during disasters.
Milan also urged the government to revisit the National Building Code of the Philippines to ensure that those who will build infrastructure facilities will follow key standards that will make their projects become resilient to earthquakes and other disasters.
He said the business sector is also urging experts to come up with key standards that must be followed so that when the law is amended these   proposals are integrated.
This developed as some buildings incurred structural defects during the earthquakes with two of them, the Ecoland 4000 and Palmetto Place, were both ordered condemned by the city government.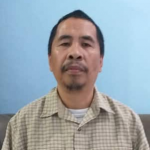 Managing Editor at Mindanao Times