The top drug suspect of the Sta. Ana police was killed in an alleged shootout during a buy-bust operation along Tahimik Street, Obrero, Barangay 15-B at 2:30 p.m. yesterday.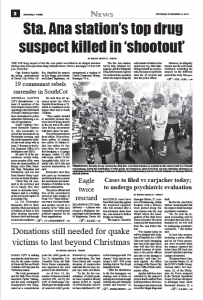 Capt. Rosario Aguilar, the acting spokesperson of Davao City Police Office, identified the suspect as Rex Braga, also known as Richard Tagahanan, 24, unemployed, a resident of Carillo Compound, Talisay, Barangay 76-A.
The Sta. Ana station, led by Maj. Michael Uyanguren, and the Philippine Drug Enforcement Agency XI conducted the operation where the suspect allegedly sold a sachet of shabu to the undercover cop. After identifying himself as a policeman, the suspect reportedly drew his .22 revolver and shot the police officer.
However, he allegedly missed and the policeman retaliated, wounding the suspect on the different parts of the body. The operating team rushed the suspect to the Southern Philippines Medical Center, but he was already dead by then.
According to the report, recovered from the suspect was there sachets of shabu, two containers with dried marijuana, aluminum foil, cash amounting to P23 and the P500 buy-bust money.
The Scene of the Crime Operative (SOCO) team, led by Lt. Michael Ondras, recovered one .22 revolver with serial # 110967 loaded with two live ammunitions and cartridges from .22 revolver and 9mm pistol.
The total weight of the shabu had an estimated street value of P15,000, while the marijuana was estimated to be worth P1,000.
Aguilar said that the suspect also had several records for robbery and theft. His remains were still at the morgue the of Southern Philippines Medical Center.