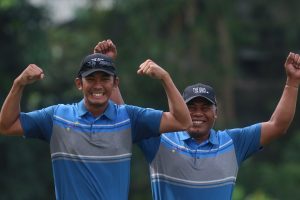 Sta. Rosa, Laguna – Team South came away with a pair of lopsided victories and charged back in two matches to wrest a 4-2 lead over North in opening four-ball of The Duel – North vs South VI at Sta. Elena Golf Club here yesterday.
Multi-titled Tony Lascuña combined superbly with first-timer Nilo Salahog as they dominated Michael Bibat and Jun Bernis from start to finish to fashion out a 6&5 romp while Rufino Bayron and Jhonnel Ababa posted a similar convincing 4&3 victory over James Lam and Fidel Concepcion to give the three-time champions an early cushion in the three-day tournament featuring the top players on the Order of Merit ranking after the 10th Philippine Golf Tour season.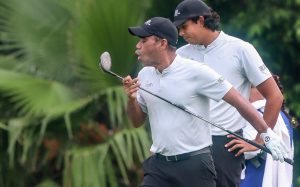 The Northerners, who upstaged their star-studded counterparts from the Visayas and Mindanao in the foursomes and four-ball on their way to scoring a three-point win at John Hay last year and cutting the ICTSI-sponsored series' lead to 2-3, did fight back to draw level at two matches but Team South won the last two pairings to take charge in better-ball play.
"We dominated them," said Lascuña, who hit four birdies inside eight feet on Nos. 5, 6, 9 and 12 in ideal conditions in a solid team-up with Salahog, No. 11 in the OOM who delivered four birdies on Nos. 3, 4, 8 and 10 from 10 feet.
Down two matches, North struck back behind Justin Quiban and Eric Gallardo, who ripped Zanieboy Gialon and Jerson Balasabas, 4&2, and Keanu Jahns and Gerald Rosales, who crushed Jay Bayron and Reymon Jaraula, 3&2. But the Southerners of coach Charles Hong regained control as Elmer Salvador and Reymon Jaraula recovered from a shaky start to edge Ira Alido and Mars Pucay, 2&1, and Arnold Villacencio and Rene Menor won the last hole to complete a 2-up reversal over Jobim Carlos and Joenard Rates.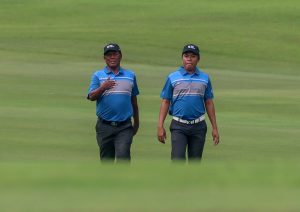 "Nothing really went wrong. They just played so good," said North coach Cookie La'O, who will be switching players for new combinations in a bid to stir up play in the tough alternate shot format event of the country's version of the Ryder Cup organized by Pilipinas Golf Tournaments, Inc. "We changed up some teams for tomorrow's (today) foursomes and hopefully we'll be able to mount a comeback."
Action is expected to heat up as play shifts to foursomes (alternate shot) today (Thursday) with Hong keeping his combinations intact and La'O testing three new team-ups in an attempt to gain momentum and confidence heading to the deciding 12 singles matches Friday.