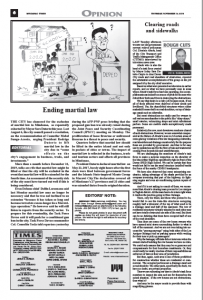 The city has clamored for the exclusion of martial law in Mindanao, as repeatedly exhorted by Mayor Sara Duterte this year. Last August 6, the city council passed a resolution, on the recommendation of Councilor Mabel Sunga-Acosta, urging President Rodrigo Duterte to lift martial law in the city due to "some effects on the city's engagement in business, trade, and investments."
More than a month before December 31, 2019, talks are rife that martial law might be lifted or that the city will be excluded in the event that martial law will be extended for the fourth time. An assessment of the security risk of the city must have turned out well if this is being considered.
Even Defense chief Delfin Lorenzana said last Monday martial law may no longer be necessary and that he was not inclined to an extension "because it has taken so long and because terrorists can no longer do a Marawi-type operation." He however said he will still listen to reports from the security sector. To prepare for this eventuality, the Task Force Davao said it will push for a total gun ban in the city. Task Force Davao commander Col. Consolito Yecla told reporters yesterday during the AFP-PNP press briefing that the proposed gun ban was already raised during the Joint Peace and Security Coordinating Council (JPSCC) meeting on Monday. The proliferation of loose firearms or unlicensed firearms is a threat to peace and security.
Quarters believe that martial law should be lifted in the entire island and not only in pockets of cities or towns. The impact of martial law is reflected in the business, trade and tourism sectors and affects all provinces in Mindanao.
President Duterte declared martial law on May 23, 2017, barely eight hours after the first shots were fired between government forces and the Islamic State-inspired Maute Group in Marawi City.The declaration covered all of Mindanao's 27 provinces and 33 cities and was extended thrice from its original duration.