Davao City is making sure that the relief intervention for the quake victims in Davao del Sur and North Cotabato will last past the Christmas season.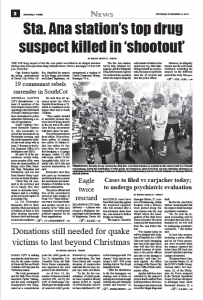 The local government and the Task Force Davao launched Oplan Tabang, and the army contingent's headquarters was designated as a consolidation point for relief goods on Oct. 31. Meanwhile, Col. Consolito Yecla, the Task Force Davao commander, was appointed the lead person in the distribution.
As of Nov. 12, the number of donors recorded reached 299, led by the LGU of Zamboanga City, which gave six dump trucks of assorted relief goods, followed by companies, and individuals. The Task Force Davao still accepts donation of construction materials like tie wire, trapal, rope, nails, and others.
"So far, for the consolidation of relief goods, we have repacked already almost 20,000 or repack 19,549 food packs out of it we have distributed 11,247 to four barangays with 299 donors," Yecla said in yesterday's AFP- PNP press briefing held at The Royal Mandaya Hotel.
"After the distribution to the five barangays, our strategy now is focus on making sure we had enough relief goods until Christmas season and beyond," he added. "That's the instruction by the city mayor and even the commander of EastMinCom reminded us that we should have relief goods up to the month of January next year," he added.
The strategy now is for focused intervention to build makeshift schools and supply waters for the barangays.
He also acknowledged the donor fatigue, which may explain why some quarters have stopped donating. Yecla said Davao City should fill the gap when the donations from the other LGUs, companies, and individuals have slowed down.
"We have observed that only few already are donating so we encourage the Davaoenos to continue pouring support," he said. "We should be ready that if the others are resting or tired already. It should be Davao city that will not be tired," he added.