Multiple cases have been filed yesterday against the suspected carjacker who was arrested after a four-kilometer chase from Sta. Ana Avenue to Bolton Bridge on Tuesday.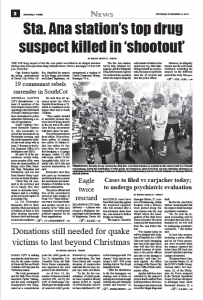 The suspect, Carmelito Pamogas Tabion, 27, a native of Kalamansig, Sultan Kudarat, took a delivery truck parked along Sta. Ana Avenue near Sta. Ana Wharf where the headquarters of the Task Force Davao is located. The street is also just few meters away from Sta. Ana Police Station.
"For inquest today, he will be charged with violation of Republic Act 10883 (The new Anti-Carnapping law) and at the same time, they will also file direct assault because of resistance to the police officers and also to the damage to property," said Capt. Rosario Aguilar, the officer in charge of the Davao City Police Office Public information office.
Aguilar said they were informed by the suspect's project that he suffers from mental problems. However, the suspect also had several records for illegal drugs and theft.
But the Sta. Ana Police Station recommended that the suspect should undergo psychiatric evaluation.
"So, for now the inquest proceeding will be processed first and if he is mentally-ill, he will still be undergoing psychiatric evaluation, " she further said.
At least four persons, including a police officer and an Air Force personnel, were wounded when the suspect rammed the stolen Isuzu Elf truck into several vehicles in the busy Quimpo Boulevard.
The injured were Corp. Lee Antoine Tambe, 33, of the DCPO's Traffic Group; Airman Marc Jed Guevarra, 22, of the Philippine Air Force assigned at the Tactical Operations Group XI at the old airport in Barangay Sasa; Jason Bermudez Antonio, 25, a graphic designer and resident of Barangay 37-D, Poblacion District; and Althea Beatrice Caduaya Felizarta, 19, of Matina Aplaya.
Corporal Tambe said he was passing by Leon Garcia Street on his way home at around 9:30 a.m. when he saw some Air Force agents flagging down an Isuzu Elf truck. But the truck driver sped off, bumping the military vehicle.
Tambe, on board a motorcycle, chased the truck together with the Air Force personnel.
Approaching the driver's seat of the truck along Quezon Boulaverd, Tambe said he introduced himself as a police officer and asked the driver to stop the vehicle.
However, the suspect continued to speed off.
He said the suspect even sideswiped him, causing him to crash into the vehicle of the chasing Air Force personnel.
Shuijin Hong, the owner of the stolen Elf Truck, said the vehicle was parked along Sta. Ana Avenue as they were hauling products.