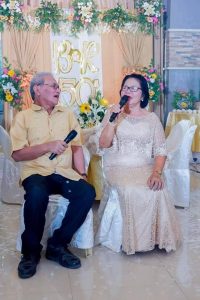 Theirs is not a marriage made in heaven, neither is it all bliss and sweet, but it is a love tested by time. It is nourished by patience and sincerity and strengthened by faith.
In these times, celebrating fifty years of marriage is quite rare and elusive, but with God's wondrous works and blessings, Bernard and Rebecca Laureano joyfully celebrated their 50th wedding anniversary with a gathering of family and closest of friends on Sunday, August 11, 2019 at the Hilltop View, D'Leonor Inland Resort, Forestal Road, Buhangin, Davao City.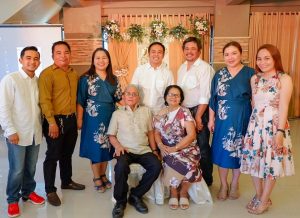 Though surrounded by many friends, their children chose guests who were witnesses to the different seasons in their lives while growing as a family.
Eldest daughter, Sarah Jane Laureano-Castledine, flew in from Australia with her son, Bien Bernard while youngest son, Randi Goldwyn travelled from Canada to be with siblings Ray Aceyork, Redelmar, Adelle Grace, Roy Francis and Catherine Ann in giving honor and tribute to their parents. They were joined by their twelve grandchildren.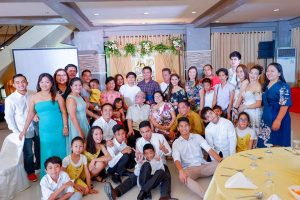 Sons Ray Ace York and Redelmar Laureano shared their experiences and lessons learned from their parents, Bernard and Rebecca. Redelmar shared how his dad became his instrument to remain faithful to his family, while Ray Aceyork share lessons that amidst life's trial, a father should stand firm for the family.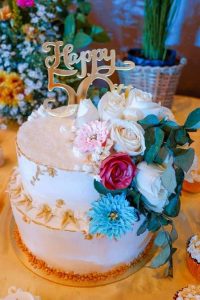 Grandchildren who were present were Erin Alijah, Jethro, Ram Luis, Selene and Claire, Francis, Josiah, Rebekah Therese, Jarred Lee, Gabriel Josef and Bien Bernard.
Bernard, a son of a farmer from Davao Oriental tied the knot with Rebecca, a daughter of a budding politician from the Morales clan of Davao City on August 13, 1969. Bernard is a former government employee serving Davao City Agriculture office, while Rebecca took several odd jobs such as a photographer and a beauty stylist. She is a daughter of President Rodrigo Duterte's uncle, Diosdado Morales.