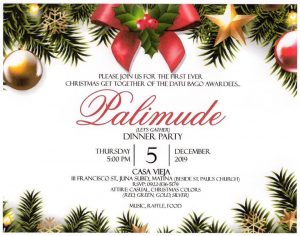 There is a certain nip in the air, a skip in our hearts, when the month of December draws near. This is the season when family, friends and the community come together to celebrate the meaning of the coming of the Christ child.
It is in this spirit of celebration that the members of the board of the Datu Bago Awardees Organization Inc, decided to hold a Christmas party on December 5, at Casa Viejo, Juna Subd, Matina.
"Since this is the first ever Christmas Party of the Datu Bago Awardees, we look forward to lots of fellowship, fun and laughter. It will be a night to remember," said DBAOI Executive Director Maria Julieta Torres.
All Datu Bago Awardees are invited to come, including the representatives of those Datu Bago Awardees who have passed on.
The affair will start at 5pm and everyone is invited to come in casual attire in colors of Christmas: red, green, gold and silver. Since there will be games, comfort able clothes should be considered.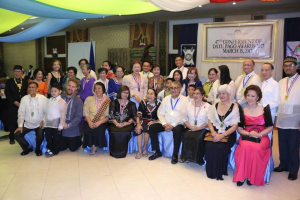 Tickets to the event are available at Php 1,000. For more information, please check out the Datu Bago Awardees facebook page or Ms. Maria Julieta Torres at mobile number +639209625368.
The Datu Bago Award was established in 1969 under the leadership of then Mayor Elias B. Lopez, a Bagobo.
He named the awards after the hero Datu Bago, to be bestowed on a Dabawenyo who has contributed to the development of the city with exemplary competence and dedication and who best serves as a model of excellence and an inspiration to Dabawenyos.
The following are Datu Bago Awardees:
Adilao, Ustadz Mahmod Mala L.
Alibin, Perfecto A.
Angliongto, Sebastian L.
Ang-Uy, Dennis
Aporadera, Ma. Luisa L.
Aportadera, Rizal D.
Apuzen, Koronado B.
Arellano, Antonio B.
Arobo, Fe B.
Ayala, Joey L.
Babao, Enrica O.
Bacaltos Sr., Mary Josephine B, Rgs
Barcelona, Fr. Emeterio L., Sj
Beltran, Victoria G.
Bian, Joji Ilagan
Blatchley, Darrel Dean
Bonifacio, Amelia B.
Braga, Pilar B.
Cabusao, Amalia B.
Canson, Lyda J.
Capalla, Archbishop Fernando R., D.D.
Dolendo, Mae Concepcion J.
Dominguez, Paul G.
Dureza, Jesus G.
Fortuna, Adela C.
Francia, Carmelina V.
Fundador, Rosita V.
Gaspar, Bro. Carlito M.
Go, Guilberto C.
Gohetia, Norma B.
Guino-o, Alfonso L.
Halasan, Randy H.
Healey Sr., Virgeen B.
Ilagan, Luzviminda C.
Javellana, Norma T.
Leuenberger, Salvacion U.
Locsin, Agnes D.
Mallari, Ines P.
Malley, Rev. Fr. William, Pme
Mande, Datu Rodolfo M.
Melliza, Ma. Iris A.
Milan Ponce, Rey Mudjahid M.
Mizell, Aland David
Montemayor, Mary Ann M.
Montemayor, Patria G.
Montenegro, Virginia R.
Moran-Floirendo, Margarita
Obenza Jr., Ricardo N.
Olivo, Fructuosa Alma A.
Pangan, Rizalina Mitra
Partoza, Antonio Jr. B.
Perez, Teody Boylie
Puentespina, Charita P.
Rivera-Ford, Aida
Rodriguez, Julian, Jr. P.
Ruivivar, Marina Bello
Santiago, Irene M.
Sur, Beethoven N.
Te-Santos, Helen Grace
Tesoro, Linda C.
Tiu, Macario D.
Torres, Guillermo, Jr. P.
Tupas, Ernesto P.
Uy, Antonio T.
Varela, Fr. Miguel, Sj
Vitto, Nieto L.
Ybanez, Alfonso S.
Representatives of the following Datu Bago Awardees who passed on, are warmly invited to the event.
Abellera, Leopoldo M.
Albay, Vicente
Alcantara, Conrado C.
Almendras, Alejandro D.
Angeles, Ruben E.
Ayala, Jesus V.
Babao, Manuel P.
Basa, Ramon D.
Borromeo, Herminia V.
Borromeo, Rosauro, Jr. M
Cabaguio, Manuel Sr. G.
Chin, Ma. Asuncion J.
Corcino, Ernesto C.
Cruzada, Benjamin O.
Cruz-Avisado, Adoracion P.
Cunanan, Fr. Paul Dc.
Dalisay, Desiderio, Sr.
Damaso, Aida Gil
Dasmarinas, Agapito A.
David, M. Ma. Assumpta M., Rvm
De Asis ,Concepcion Panganiban B.
Dela Paz, Jesus T.
Dela Paz, Trinidad C.
Dizon, Francisco S.
Doctor, Napoleon E.
Domingo, Jose J.
Dumanig, Palpito D.
Durban, Virgilio, Sr. J.
Duterte, Soledad R.
Ebro, Jose
Ebro, Mamenta
Edades, Jean
Edades, Victorio
Faune, Juan V.
Fernandez, Bernardo N.
Fernandez, Enrique A.
Finster, Fr. Paul, Sj
Flaviano, Anita
Floirendo, Antonio O.
Fuentes, Renato A.
Garcia, Isabel Y.
Garcia, Manuel M.
Gempesaw, Carmelo T.
Guilbault, Fr. Paul, Pme
Hofilena, Luisita E.
Iñigo, Carlos
Kimpo, Edna T.
Largo, John Ryan
Laud, Belen C.
Lizada, Rogelio L.
Limso, Ricardo
Locsin, Carmen D.
Lopez, Elias B.
Lozano, Leonor S.
Mabutas, Archbishop Antonio Ll, D.D.
Marfori, Simeon
Marfori, Margarita
Marfori, Isidro A.
Michaud, Fr. Maurice, Pme
Millete, Carlos A.
Montemayor, Alberto C.
Monteverde, Tomas D.
Monteverde, Vicenta Vda. De Tionko
Munda, Rosa Santos
Nartatez, Milagros C.
Nuñez, Cesar R.
Oboza, Alfonso Sr. G.
Palma Gil, Emilio P.
Palma Gil, Teodoro L.
Pamintuan Mariano
Pamintuan, Remedios
Pantaleon, Pelayo, Sr. A.
Panulcialman, Alex A.
Panuncialman, Elisa N.
Piansay, Emilio M.
Quimpo, Romualdo C.
Quinto, Iluminado P.
Robillo, Isaac, Sr T.
Rodriguez, Julian, Sr. A
Saavedra, Dulce C.
Salumay, Datu Tumalac Liag
San Pedro, Josefina Caraos
Santos, Catalina G.
Santos, Esperanza
Santos, Felicidad C.
Sanvicente, Pedro O.
Sarenas, Concepcion B.
Sarmiento, Lorenzo S.
Sexon, Baldomera E.
Solis, Lourdes Cura
Soriano, Carmen M.
Suelto, Martin T.
Tan, William G.
Tatsuo, Uchida
Tesorero, Francisco P.
Thibault, Bishop Clovis, Pme
Torres, Guillermo E.
Veloso, Ismael
Veruasa, Apolinario B.
Victorio, Ligaya G.
Villa-Abrille, Francisco
Villafuerte, Cipriano, Sr. S.
Villegas, Quirino M.
Wood Sr., Cecilia, Mm