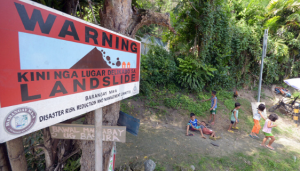 The City government has advised 41 families residing in landslide-prone areas to evacuate after the inspection team validated that ground structures in two out five identified areas have weakened following the series of quakes that occurred in the past weeks.
The team already validated the dangers in Juario Village in Barangay Ma-a, Talomo District and Phase 5 of DDF Village in Barangay Mandug, Buhangin District.
Juario Village is at the foot of Shrine Hills, located at the back of Davao Memorial Park and below Jack's Ridge. Phase 5 of DDF Village, on the other hand, lies along Davao River.
The team is still validating three other landslide-prone area – the old Smokey Mountain area along Carlos P. Garcia Highway (Diversion Road) in Barangay Matina Pangi, Talomo District; Purok Damayan of Barangay Buhangin Proper, Buhangin District and Purok 5 of Barangay Baganihan in Marilog District.
According to Davao City Risk Reduction Management Office (CDRRMO) chief Alfredo Baloran, residents are recommended to evacuate because the areas identified are hazard-prone.
"We recommended the immediate evacuation of the residents in the area to avoid any risks," Baloran said.
He also said that the series of aftershocks have increased the possibility of ground collapsing in those areas.
"People from these areas must be pulled out to avoid casualties," Baloran said.
He said that boulders in the slope acquired cracks that may be dangerous if a ground collapse will happen.
The city government is still urging residents living in landslide-prone areas to follow the recommendation to vacate to avoid casualties.