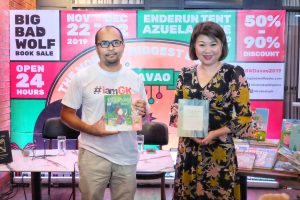 Mark your calendars – from November 22 to December 2, the world's biggest book sale is coming back to the Enderun Tent, Azuela Cove in Davao City.
Take the Big Bad Wolf experience once again and scour for more than a million English books from different genres up for grabs.
The BBW book sale will be open 24 hours a day and will give away 50% to 90% discount for Dabawenyo book lovers.
"We're back to spread the love for reading and share our advocacy to promote English literacy," said BBW founder Jacqueline Ng during the press con last November 7 at Union Market in Azuela Cove.
An interesting addition to this year's BBW is the Magical Books series that make use of Augmented Reality technology.
"The Magic Books will support children's learning and development as they're able to interact, read, play and learn using AR technology," Ng explained.
Like in the previous years, BBW is also working with Gawad Kalinga in donating books to various communities and elementary schools, including those affected the recent spate of earthquakes in Cotabato.
Now on its 10th year, the BBW Book Sale continues to encourage reading by providing high quality, brand-new English books at low prices by visiting more cities in countries such as Taiwan, United Arab Emirates, Indonesia, South Korea, Pakistan, Malaysia, Myanmar, Sri Lanka, Thailand and the Philippines.