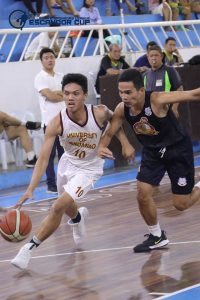 Davao City – MATS College of Technology needed only five extra minutes to pull-off a stunning upset of highly-favored University of Mindanao-Main, 115-111, Sunday (November 10) in the ongoing elimination round of the Escandor Cup Collegiate Sponsors League at the Davao City Recreation Center.
The pair of Juanito Ybanez and Dioneil Laverte scored 26 and 18 points, respectively to lead the Navigators to its second win in five matches, thus giving the Wildcats its initial setback in four games.
Despite the loss, the UM-Main Wildcats share the lead in Bracket A with St. John Paul II College of Davao Saints sporting similar 3-1 win-loss cards followed by Agro Industrial Foundation College Sailors and Cor Jesu College of Digos with 2-1 cards followed by Davao Merchant Marine Academy Mariners (2-2) and the pair of MATS College of Technology and Holy Cross of Davao College Crusaders (2-3)
Holy Cross of Davao College Crusaders booked its second with at the expense of San Pedro College, 71-65 with Ric Ruales' double-double noting 16 points and 10 boards.
For Bracket B, Brokenshire College of Davao improved to a 3-2 slate after beating AISAT, 127-59 with Robert Dimas having 21 points and six rebounds.
Brokenshire stands at third trailing Jose Maria Colleges Kings (4-0) and Holy Cross College of Sasa (4-1).
Games will resume on November 15, Friday with DMMA taking on San Pedro College in the opener at 4:30 p.m. followed by Agro Industrial Foundation next to MATS College of Techonolgy at 6 p.m. while University of Mindanao-Main battles St. John Paul II College of Davao at 7:30 p.m.
Davies Paints, The Royal Mandaya Hotel, Mandaring Tea Garden, Max's Fried Chicken and PTT Lubricants are backing the event sanctioned by the SBP-XI Chapter.