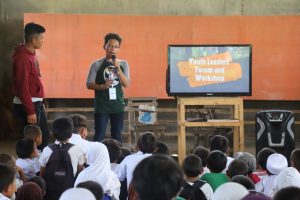 Butig, Lanao Del Sur — Sunny in the morning, wet in the afternoon.
Such is the many ironies of Butig; once associated with the infamous Maute terror group, but now, a shining example of peace and development in this part of Mindanao.
Butig, which is about a two-hour drive from Marawi City, is flanked by the majestic "Sleeping Beauty" mountain range, so named because it resembles a lady in deep slumber from afar.
Like the namesake of its topography, Butig seems like a sleepy town. But it is slowly waking up – and coming to life.
In a covered court in Barangay Sandab, around 330 morits (students of Islam), their parents and ustadz (teachers) gathered for a day to celebrate their culture and participate in various peace-building initiatives.
The morits came from three madaris (school of Islam) in the area. All of them were eager to take part in the series of activities lined up for them.
Cultural preservation
The Office of the Presidential Adviser on the Peace (OPAPP), in partnership with the 49th Infantry Battalion and the 12th Civil Military Operations Battalion of the Philippine Army, as well as the Youth for Peace Movement-Butig Chapter and Youth Leadership Summit, launched on October 31 the "Rise Madrasah Operations" in Butig, an activity which aimed to strengthen Islamic education as a means of countering the spread of violent extremist in the municipality.
"We are here to support them (morits) to continue studying Arabic. Nandito rin tayo to motivate the ustadz to continue supporting the morits kahit na walang sahod na nakukuha. So it is a form of volunteerism para matulungan ang ating mga kabataan (We are here to support them to continue studying Arabic. We are also here to support the ustadz to continue supporting the morits even if there's no salary. So it is a form of volunteerism to help our youth.)," according to Ashari Macaarab Lantud, YLS president.
The day began with a series of cultural presentations. Several morits showcased their acting and presentation skills during a declamation contest, followed by a recitation of various passages from the Qur'an.
Two groups of morits then performed dance numbers which highlighted the rich culture of the Maranao people. The first was a traditional one, while the other was a bit more modern.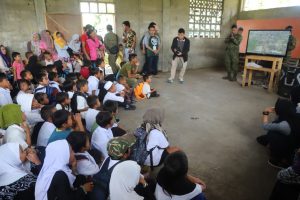 Lt. Col. Edgar Allan Villanueva, commanding officer of the 49th Infantry Battalion, noted the significance of the day's celebration.
"Our focus here today is the preservation of their culture and tradition. Aside from the Preventing and Countering Violent Extremism (PCVE) program, this is what we are trying to inculcate to them, that they should love their culture and tradition, as well as what it means to be a Filipino," he said.
After their presentations, the morits huddled in front of a television set, as the soldier-facilitators played informational videos about the Marawi Siege.
The main goal of the event's organizers was to encourage the morits to stay in school, and most importantly, convince them not to be drawn by the violent extremist groups into their fold.
Food against hunger
Everyone was brimming with excitement as soon as the facilitators called the morits on stage.
All of the morits received packed lunches and an envelope filled with school supplies which included pencils, notebooks and crayons.
What they received were not only meant to fill their stomachs, but also nourish their young minds.
Col. Villanueva emphasized the need to capacitate the youth sector, especially those residing in Butig who are highly susceptible to recruitment by violent extremists.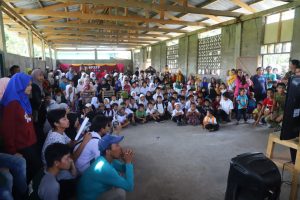 "Hindi natin ito maso-solve (violent extremism) ng tayo-tayo lang, so importante 'yung youth sector, kasi 'yung mga susunod na generation, ito rin 'yung pwede nating ipamana sa kanila— 'yung kapayapaan "We cannot solve violent extremism just by ourselves, so the youth plays an important role here, because this is what we will pass on to the next generation— peace)," he said.
'We do what we can'
The event's organizers also visited nearby Barangay Poktan a day before, as part of their educational and peace-promoting efforts in the municipality.
Mahid Aisah Lantod, a volunteer ustadz in one of the local madrasahs, discussed the day to day challenges the morits confront, which have affected their pace of learning.
"Kulang sila sa upuan, sa bolpen, sa paper, kaya nahihirapan silang mag-focus sa pag-aaral (They lack chairs, pens and paper, that's why they have a hard time focusing on their studies.)," he said.
According to Lantod who volunteers as a teacher two days a week, the limited facilities and supplies at the madrasah has also constrained his and his co-teachers' ability to teach.
"Pinauupo namin sila sa ganito (floor), tapos ang pinakamahirap dito sa pagtuturo, walang budget ngayon, voluntary lang. Nahihirapan kami kasi naghahanap-buhay kami pero (sa) dalawang araw (kada linggo), nagtuturo din kami (We just let them sit on the floor, and what's hardest among all these is that there is no budget for teaching; this is on a voluntary basis. We find it hard since we are working plus twice a week we volunteer to teach)," he said.
Lantod then gave this writer a brief tour of the madrasah. Across the street was a modest facility, about the size of an average classroom, except that it didn't have chairs nor tables.
He said the room is occupied simultaneously by four different pre-school classes, with each class separated only by black boards.
Meanwhile, the gymnasium-cum-events facility where the film showing was being held, served as the classroom for Grades 1 to 6 pupils on regular school days.
"Ten teachers kami. Minsan, nakakatanggap kami ng 1,000 pesos a month. Minsan.
Galing 'yun sa mga magulang ng mga bata. Saka kay Chairman (We are ten teachers here. Sometimes, we receive 1,000 pesos a month. Sometimes. This comes from the parents and from the Barangay Chairman.)," Lantod said.
For now, at least some of Lantod's immediate concerns will be addressed, as the event's organizers also distributed food packs and school supplies to around 170 morits.
Lantod and his co-teachers also received assistance packages, which included lesson plans, pens, and other teaching materials.
The priceless smile of a child
Despite the long drive to Butig and the ever-shifting weather patterns in the area, there is perhaps no greater reward than seeing the priceless smiles on the childrens' faces.
A pencil is not just a pencil, and a notebook is not just a notebook when they are in the hands of a child who is willing to learn.
Indeed, these are instruments of learning which will prevent the spread of ignorance and illiteracy, and give children the power to shape their own future.
Indian child rights activist and Nobel Peace Prize winner Kailash Satyarthi once said: "There is no greater violence than to deny the dreams of our children."
For his part, Jose Regulus Ortega, Peace Development Officer IV of OPAPP, challenged the morits to help their elders in creating sustainable peace in their respective communities.
"Peace is not like a guava fruit that we can easily get. We have to work for peace," Ortega said. "In your tender age, we can already see that you are being responsible citizens, in order to implement peace in our community."