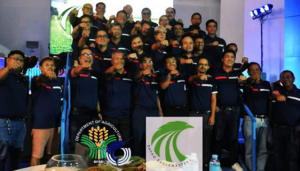 Davao City – Following the 11th edition of the annual Davao Eaglemasters Golf Tournament, the team and individual golf competitiom got another boost with the support of another agency from the government sector.
The Bureau of Fisheries and Aquatic Resources (BFAR) has thrown in its support for this event which was held last Setember 19-22 in Davao City's three premiere golf courses with some 650 players seeing action in the 4-day tournament.
Golfers from as farbas the United States, namely Florida, New Jersey & San Diego, Dubai, Japan, Luzon, Visayas & other parts of Mindanao including some members of the national pool.
The tournament which is considered one of the biggest locally conceived team and individual events that started out in Davao's two golf courses namely Apo Golf and Rancho Palos Verdes with just a handful of players in the past. It eventually grew and is now gaining more ground with the addition of the Sputh Pacific Golf & Residential Estates as its third venue.
Among the other supporters and backers of the tournament this year the Rizal Memorial Colleges, K&G, Petro Gazz, Hexat Mining Corp, Mamay Resort, Penong's, Toyota, Phoenix Petroleum, Ulticon Builders, Senator Christopher Lawrence 'Bong' Go, Governor Jayvee Tyron Uy, Tony Boy Floirendo & Congressman Mikee Romero.