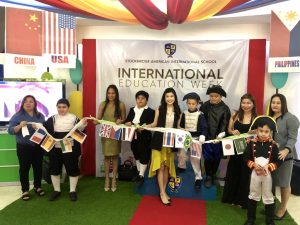 United Nations Day was celebrated by Stockbridge American International School through a weeklong celebration called "International Week" last October 21-25, 2019 with the theme "Unity in Diversity: We are all PIECES that FIT together" to develop awareness and appreciation for cultural diversity and promote traditions from different countries to further cultivate a unified environment among Stockbridge students.
Young learners did a "Stockbridge around the world" activity exploring the world through pinning their home countries on the map and connecting them to where Stockbridge was, and that was the Philippines. This activity was enjoyed by everyone most especially by the school's international community of students.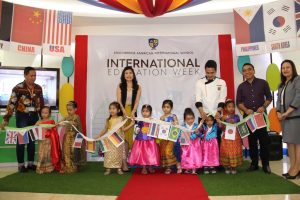 Students engaged in a "Unity in Diversity: Hand Painting" activity to understand the principle of unity through a fun and meaningful hand painting activity. This was followed by an Essay Writing competition on the topic "How can we unite amidst diversity?" to enable young students to think about how they can make a difference in the world. The winners were: 1st Place- Isaac Dean Navarro; 2nd Place- Dabin Yoo and 3rd place- Thirdy Tomeldan.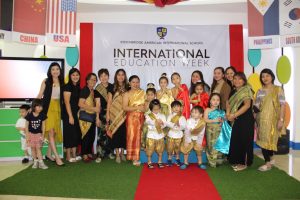 A Sustainable Development Goals Poster Making Contest took place which helped the students to understand the challenges that the world is facing.They appreciated their contribution, achieving their goal which inspired them to create positive changes in their own way. The Winning entry was done by Datu Edilbasher Mahadali on Gender Equality;l 2nd place was Jhanrill Greca Barcelona – "Life Below Water" and 3rd place was Miguel Dela Cruz – "Decent Work and Economic Growth".
The whole school community – students, teachers and parents took part in a 'Global Tour" booth, an activity creating exhibits of the countries they represented.
The weeklong celebration culminated with a "Grand Tour" – an experience where students and parents went on a grand tour within the school building to witness an international runway of national costumes, enjoy cultural performances of the students, go around the the "Global Tour" live country exhibits and ended the tour where students decorated their own cupcakes with the different flags of the world. The Winners were the following: Pre-Kindergarten category: 1st place – Thailand, 2nd place -Philippines and 3rd place – Egypt. For K12 Category: 1st place – Brazil, followed by Spain and Russia.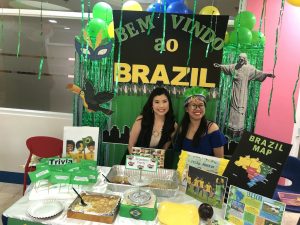 The opening ceremony was graced by Ms. Nicole Hao Bian, Vice President for Education Development of the JIB School who welcomed distinguished guests; Dr. Mary Jane Mejorada and Dr. Isidora Cermino, Education Program Supervisors from the Department of Education Region 11, Ms, Danna Advincula Faistauer representing the Consulate Office of Austria and Ms. Christine Kaindoy of CK Weddings and Events.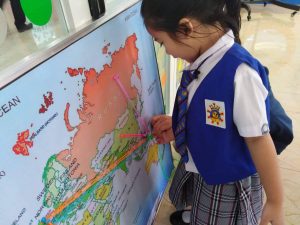 Ms. Nicole Hao Bian and guests and student representatives engaged in a "Unity in Diversity" ceremonial flag raising to signify unity among countries instead of the usual ribbon cutting.