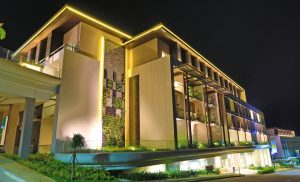 Two weeks ago, I had every reason to smile and be happy. Harold Geronimo, the Senior Assist. VP and Head of Public Relations and Media Affairs of Megaworld invited me to a relaxing three-day escape to the country's Pacific Island Paradise of Boracay. Property giant Megaworld, through its subsidiary brand Global-Estate Resorts, Inc. (GERI), was opening its second hotel development located inside the whopping 150 hectare Boracay Newcoast. Boracay Newcoast is a mixed-use leisure and resort development in Boracay, Banwa Malay, Aklan.
Yes, the amazing Megaworld development is geared to become the grandest tourist destination in this island. I gladly accepted the invitation. Thanks goodness the handsome and friendly Nate Dacua, Megaworld's hardworking Media Relations Supervisor, and PR Manager Tere Isla kept me posted to the detail before traveling by the Davao-Manila-Caticlan route.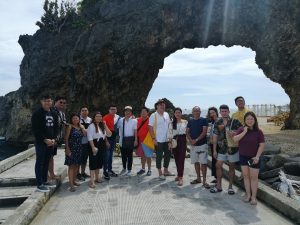 The last time I was in enchanting Boracay was 11 long years ago. I still remember what Pres. Rodrigo Roa Duterte said about Boracay's cleanup in 2018, "We intend to restore its environmental integrity, alongside measures to alleviate those whose livelihood were momentarily affected. Environmental protection and ensuring the health of our people cannot be overemphasized; thus, our actions in Boracay mark the beginning of a national effort." Bravo, no other Philippine President would have had the guts and determination to do it.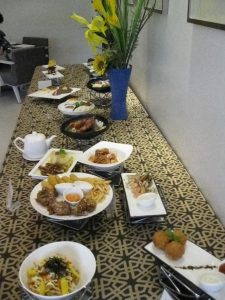 Arriving at the entrance of the 2.1 billion peso Belmont Hotel Boracay after a long trip from Davao was such a relief. The three-tower hotel is situated within the sloping area of the estate which is just a stone's throw away from the Savoy Hotel Boracay; and it overlooks the eastern beach of Boracay Island. It is, indeed, the perfect place to stay in when you want a stress-free and quiet holiday; and an affordable one at that. It provides a strong contrast from the frenzied activities happening at the famous seven kilometer-long and palm-studded White Beach of Boracay along with the smaller and economical hotels and inns located within it's distance.
Belmont Hotel Boracay features 442 rooms with choices of Superior, Deluxe, Premier, and Premier Deluxe rooms, plus the Executive Suite. The room sizes range from 27 sq.m. to 52 sq.m. Take note, Belmont Hotel Boracay has special rooms for Persons with Disability as well.
"Our second hotel under the Belmont brand offers an exclusive nature experience in this paradise island. It allows guests to see the island's panoramic natural scenery from one building to another, from the vast sea to the lush mountains and hills of the island and other nearby islands," said Belmont Hotel's General Manager Roland Galano who hails from Luzon. You don't need that much energy, strength and stamina to enjoy Belmont Hotel Boracay's adventures that are truly once in a lifetime experiences for you, your family and friends. Belmont Hotel Boracay offers a wide array of amenities and services that include a swimming pool and in-pool lounge, Aqua Spa, courtyard, landscaped gardens, fitness center with shower and changing rooms, business center, function halls, meeting rooms, a full-time concierge manned by a friendly and smiling staff, 24-hour in room dining service, and complimentary shuttle services going to the White Beach, malls and the airport. Mind you, but Belmont Hotel is just a few steps away from Boracay Newcoast's private beach. You can enjoy the private beach minus the maddening crowd and hassles of White Beach.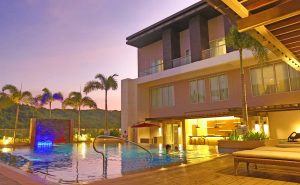 Hungry? No problem. Belmont Hotel Boracay offers an all-day dining at the Belmont Cafe featuring the gustatory delights of Exec. Chef Gilbert Alan Mathay, soux chef Hennesy D. Casaclang, with F&B Manager Enet Sendin seeing to it that everything is in order. Belmont Cafe features delightful cuisines with Asian and Mediterranean influences which will make you exclaim "wow, kanamit guid."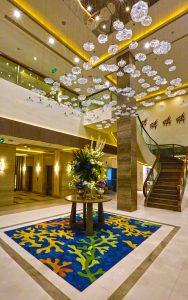 "Our continuing thrust to help boost tourism in the country is even gaining more momentum as we open more hotels across our tourism townships. GERI, as the developer of Boracay Newcoast, remains committed to help build our country through tourism developments," revealed Jennifer Palmares-Fong, the VP for Sales & Marketing of Boracay Newcoast.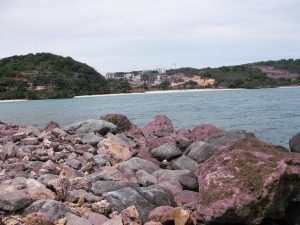 Thank you, Megaworld and Belmont Hotel Boracay, for the wonderful escape to one of the most beautiful islands in the world. Thank you, Megaworld's Harold Geronimo, Nate Dacua and Tere Isla, for the incomparable hospitality.