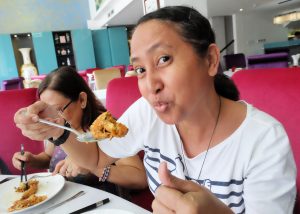 For the past months, I have been hearing a lot of positive reviews about Laut Palace Seafood Restaurant, a relatively new restaurant along Quimpo Boulevard that we often get a glimpse of whenever we drive by the Quimpo-Sandawa intersection.
Last weekend, we finally had an affirmation of what friends have been raving about when Laut owner and restaurateur Grace Chia, invited us for lunch.
"We started our restaurant business in London serving Chinese-Malaysian cuisine. In fact, we still have 3 restaurants there serving the same cuisine here in Davao but with less seafood unlike here in Davao where seafood is abundant," said Chia, who's a good friend of the owner of Blue Lotus Hotel, where Laut is located.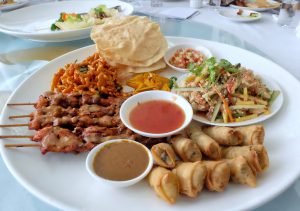 Chia comes from a family of chefs – her brother is a Chinese chef while her sister is a pastry chef, who also does fusion cuisine. Her husband is also a chef.
"In Malaysia, we have four restaurants. One is a Malaysian- Chinese seafood, very similar here in Davao, run by my brother," she added.
While they serve more Malaysian fares in London, specializing in mixed starters, in Davao, they localized the flavors to suit the market while retaining the basic elements of the cuisine.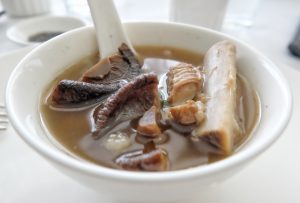 "We always take into consideration the local cultures and flavors, so it comes out as a bit of fusion. That's why, we're often asked if we're a Malaysian or Chinese restaurant, I'd reply, 'no, we are a Davao restaurant," she said in jest.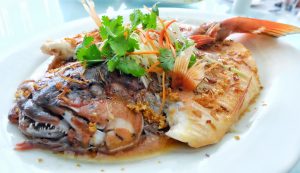 Some of the dishes they prepared for the media lunch include their Mixed Starters, Mixed Treasure with Lettuce Wrap, Fried Bean Curd with Thai Chili Sauce, Smoked Shredded Chicken Salad, Beef with Peking Fruity Sauce, Steamed Sunok with Signature Soya Sauce, Stir Fry Mixed Vegetables, and Fried Chicken with Kong Po Sauce.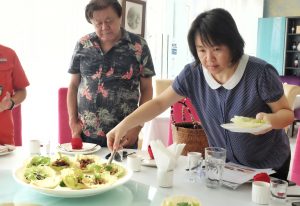 Yes, everything they raved about Laut Palace Seafood Restaurant is certainly true. I might have tasted some for the first time but the flavors are delectably familiar to the palate and very close to home. However, I have to play favorites – their Sambal Bihon, Bak Kut Teh, Crispy Chili Beef, Fried Prawn with Salt and Pepper, Stewed Pork Belly with Bun, and Toffee Banana with Ice Cream (for dessert) gave me the top 5 reasons why I'm definitely going back to Laut.
As an added info, Chia's father, a botanist, was part of a group who developed the D101 durian variety in Malaysia. The "101" was from her father's car plate. So, don't be surprised if she comes up with a durian dish soon.
Laut Palace Seafood Restaurant is having a 20% off promo (with no service charge) on their value set menu and selected signature dishes until the end of November.