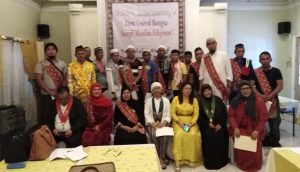 In celebration of Indigenous Month in Davao City, we were invited by Asleya Limbona/Arkat Lawanen, to witness a gathering of the Sangil Tribe who have come forward to show their unity and identity. Realizing that tribal rivalry and hostilities hinder growth and economic progress, they bonded together and signed a documents to work together in cooperation with the various tribes existing in Balut and Sarangani Island in Mindanao.
In a blog spot sent to us by Asleya Limbona of Marawi, we share this story: "In search for the mystery that beholds a bay, a province, and a municipality bearing the name Sarangani, we unveiled the mystic beauty of its place and people."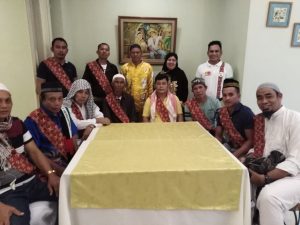 "A five-hour boat ride from General Santos City brought us to two land masses of Sarangani Municipality-the Balut and Sarangani Islands. Balut has a land area of 6604 hectares while Sarangani has 4014. Its ancestry reveals that Balut, a Maguindanaon term which means "an island" became a municipality of Davao del Sur 26 years ago. It is composed of 12 barangays mostly populated by sangils who landed here in the mid 14th century from Sangir Island, North of Indonesia, when the Dutch began to take dominion over the island. Balut's Sangil equivalent is wanowa."
"Burials of Sangil Sultans, led by Sultan Panurat who were the first settlers of the land, were built by pile of rocks. Those kalachuche trees are memorials of Sangil royalty," Takeda Colano revealed in vernacular when we visited the site of his great grandfather, Judah."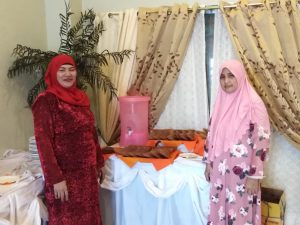 "Marorong, fondly called Balistic Island because of its bullet form, is 70 meters across Balut Island. The rock structure built by the Sangils and B'laans was a fortress against Villalobos' army, visitors and tourists changeably called the islet "Fort Villalobos".
"Fr. Jose Luego, a Jesuit historian, and Gregorio Zaide in his History of the Filipino People noted the landing of Ruy Lopez de Villalobos in Marorong in search for the Moluccas Island in 1543."…and in dire need for provisions, he sailed to Sarangani…", Zaide wrote.
"It is remarkable how the old Sangils and the heirs to the sultanate handed down their past for four generations through the word of mouth!"
"A Sangil darangen or folktale also tells a duel between two big men, Saramangge and Marama, to win the hand of a Sangil princess. Saramangge was treacherously defeated by Marama. His blood flowed over the bay and a rock formed from his corpse which is now called Sarangani Island and Sarangani Bay in honor of the noble warrior. In Sangil etymology, Sarangani came from the Sangil's Sarang-ine, "this is our territory" or "we stop here".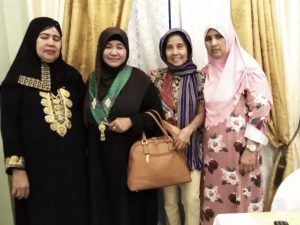 "Balut and Sarangani are brothers," recounts Professor Virginia Buhisan, an anthropologist. This was recorded by Sarangani Municipality as the legendary origin of the place which was passed by the old folk down to the young generation."
"Elias Colano, 105 years old, is the oldest man in Balut and head of elders of the crowned Sultan, Pagal Padasan Colano."
Even the tampat or burial sites of Sultan Panurat in Batuganding Point can attract tourists. They are marked by kalachuche trees and rocks piled by their descendants and B'laan natives who were then Islamized.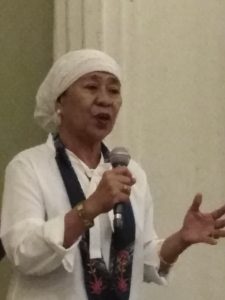 The launching of the Sangil Tribes was held at Hotel Galeria in Davao City on October 21, 2019, attended by Commissioner Dalisay Macadawan of MCMF, Cora Espinoza – Commissioner for Urban Poor Women, Bae Taibah Mading, who gave a brief history of the Sangil, Noraina Malli, Sahira Esmael, Yoshria Arago, Ambassador Roel Totrejos – Ambassador of Goodwill- Arkat Lawanen. Officers of the United Bangsa Sangil took their oath in the presence of CommissionerDalisay Indawan. Also present were Bai Husna Colano and Mrs. Tourism Buki Kathy Elsie Icalina Ong.
Credits: Sarangani Information Office/Jessamar Online
Photo Credits: Marilyn C. Roque