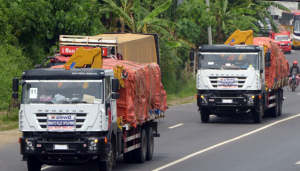 The Task Force Davao (TFD) handed over relief goods to 10 barangays of Magsaysay, Davao del Sur.
According to Col. Consolito Yecla, TFD commander, the assistance is part of Oplan Tabang spearheaded by the City Mayor's Office and other executive offices, along with the Army, Philippine National Police (PNP), Minute Burger, and civilian volunteers.
The following goods are distributed to the Magsaysay: Food Packs – 3,000 packs, Water – 214 boxes of water, Trapal – 30 rolls, Clothes – 1 sack (50 pcs), Blankets – 5 sacks (75 pcs), Banig -sack (30 pcs), Medicines – 3 boxes and Mosquito net – 2 sacks (30 pcs).
The goods will be properly checked in to the provincial and municipal Emergency Operation Center (EOC) in which the target evacuation areas have already been coordinated with the EOC.
Meanwhile, City Disaster Risk Reduction and Management Office (CDRRMO) head Alfredo Baloran handed over the 4.2 million approved calamity fund to the quake-affected areas.
The check will addressed directly to the concerned beneficiaries.
Aside from cash assistance, the city also extended relief goods to the affected areas, as well as personnel augmentation and equipment during the search and rescue operation of the Office of the Civil Defense (OCD) in Davao del Sur.