With the right mind set and right teaching, children are more capable than we think. It is best to teach our children that small things can actually help and create greater reward. And as a parent, you are your child's first and most important teacher.
In fact, many studies show that what the family does is more important to a child's success than how much money the family makes or how much education the parents have.
These are words of wisdom from author, corporate leader and mother, Charina 'Chat' Garrido-Ocampo.
A Davaoeña who has made Manila her home since she studied college at the University of the Philippines, Chat started her career at the Philippine House of Representatives (HoR) as legislative staff officer at the Committee on Public Information, then transferred to the then newly-created Public Information Office at the Supreme Court of the Philippines.
In 2003, Chat joined the International Rice Research Institute (IRRI) as its Community Relations Manager handling host country, media and community relations.
And because of her love for agriculture, she wrote three widely-distributed children's books on agriculture: Popong Eats His Rice, Popong Eats Brown Rice and Lina's Town Rises Again.
The first two books explain in simple terms how rice is planted, harvested and how it reached households. It tells the story of a young boy named Popong who began to appreciate the rice served during meal times after he learned all these in a dream.
The third book is the story of Lina, a young girl, living in Lambayong, Sultan Kudarat, Mindanao. It is inspired by the real story of Consolacion Reyes and the residents of the town, who were able to recoup their loss in agriculture by planting Dekalb corn.
"You know that there are not so much children's book available, even if you buy. Kung meron man yung mga fiction, yung mga alamat, mga legend style," she shared. "It is so difficult to write a book that also informs your target audience," she said.
Chat added she started writing the two books mainly for her two sons.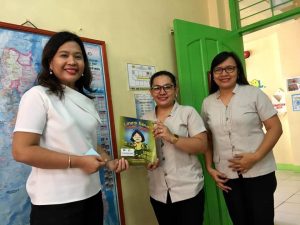 "Many would tell me that their children would start finishing the rice that's put on their plate, when I did that. My first target is to make my kids finish the food the rice that is put in their plate, parents would come to me and would tell me 'uy, yung libro ba nung nabasa ng anak ko, talagang tinatapos na yung rice niya."
She stressed that she wanted the children to know that 'we just don't get rice from the supermarket'.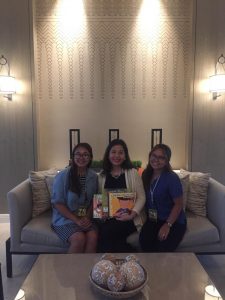 "The advocacy of the first book is not to waste rice, to value the effort of farmers and to understand that you don't just get rice from the supermarket. A lot of effort is put into it so that they can have rice on their table. The second book about having a healthy brown rice, as it is more nutritious than the white rice," she said.
She was able to talk to some government officials and learned that they are working with farmers' organizations and leaders on biotechnology.
"Then again we know that our farmers are having difficulty, they are not earning, so why would they continue (to farm)? They are so vulnerable, I think it would help to buy directly to farmers," Chat said.
Chat wanted to give weight to the saying 'small things can make great rewards'. Because only when they (farmers) are successful can we consider ourselves successful. Chat is the Corporate Affairs Head of Legacy Monsanto Philippines.