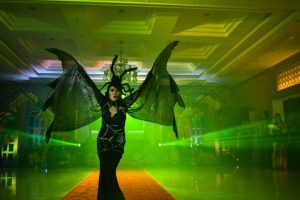 Parties are always exciting and enjoyable, but more so when one wears the costume of his or her favorite superhero or cartoon character to win prizes and play games. The Royal Mandaya Hotel Ballroom was transformed into a sort of carnival with every kid and grownup's face made up to look like some character in the movies on October 26, 2019. The Kids party started at 3:00 pm and lasted until 5:00 pm, while the Adults party started at 7:00 pm until 12:00 midnight.
Entertainers were comedian San Zu and Host DJ Torch. Judges for the event were: Mr. Benjamen Banzon, Jr. TRMH General Manager, Mr. Glenn Estipona of Events Library Shop and Ms. Marilyn Roque of Mindanao Times.
The event included a costume contest, bubble show, face painting, parlor games, raffle and prizes, free drinks, photo booth and loot bags. Prizes won were Gift Certificates for lunch or dinner buffet at Kamayo Cafe for two, Overnight stay in a superior room for two.
Winners of the Halloween costume contest: Kids Category were: Most colorful costume: Gail Nathalia Ponce de Leon, 3 years old who came as "Snow White"; Best superhero costume: Sashi Camello who came as a "Ninja".
Winners for Fantasy/scariest costume were Samantha Mae Pantaras who was "Venom Bride"; Mr. Halloween 2019 was Marl Andrei Gorgonio who came as Miguel Rivera from the movie "Coco"; Ms. Halloween 2019 was Zian Marly Pascua – Pennywise from the "It" movie.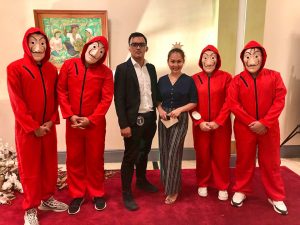 Winners of Halloween costume contest: Adults category were: Best in Halloween Costume 2019 – Male: Danrey E. Batistis, costume/character- "Samantha" a runaway groom who revealed his true identity during his wedding; Best in Halloween Costume 2019 – female : Emma Emaño with Costume/character: "Exotic Black Spider woman" a woman with wild dreams and exotic character.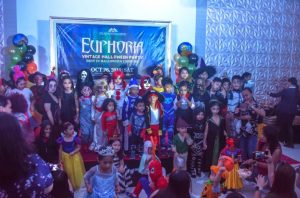 Best Couple of the Night 2019: Crisanta Panao and Juliana Mayormita with Costumes/characters: "Spiderman from Marvel Universe" and "Alyas Linda (dimple) from Raffy Tulfo in action. Best Halloween Squad 2019: Torch Gacuma, Jisan Fua, Adonis Marikit, Micah Gatchalian and Mat Banico
Costumes/characters: "Five Robbers from Money Heist".