Munchtown, the American-Pinoy dining experience that many foodies of Davao, young and old, have come to love, is now celebrating its fourth year in the City. A delightful experience of varying culinary flavors comes to life for Davaoenos. Manila's celebrated chef, Raul "Robby" Goco, Jr. who is happily married to a Davaoena named Chinky Apostol-Goco, is the man behind Munchtown's delightful offerings.
The innovative and passionate chef Robby has brought his signature menu consisting of burgers, sliders, pastas, rice meals, pizzas, burritos, barbecues, and customized fries straight from his well-patronized Munchtown Diner at Promenade 3, Greenhills Shopping Center, San Juan, Metro Manila.
"Munchtown Davao is a friendly, casual joint that appeals to every generation while serving delicious comfort food that we all love!" Munchtown co-owner Carlo Calma-Lorenzana said. And I readily believe this bright, enterprising restaurateur.
It was upon Carlo Calma Lorenzana's invitation that I got to once again indulge myself with the cuisine of what Carlo describes as "Mindanao's first and only gourmet diner." So happy to join me one late afternoon were Davao's Clinica Aesthetica's Nurse Albhy Yu and Dr. Isel Bayuga-Yu whose clinic is just across Munchtown. Both are located along Torres Street.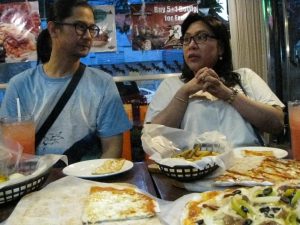 "Do find out how this culinary genius Robby Goco created such successful and memorable restaurants in Manila namely Tequila Joe, Cyma, Charlie's Grind & Grill, Achiote Taqueria, Green Pastures, among others," enticed Carlo.
"Chef Robby, has created quite a following serving up some of Metro Manila's most exciting and creative 'real food' in contrast to the prevalent 'convenience food which has been frozen, processed and microwaved.' Chef Robby only serves food that is professionally prepared and cooked the proper way. He uses only the freshest of quality ingredients. Everything is made from scratch.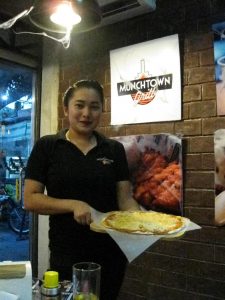 Even the hamburger patties are prepared the painstaking way. This time, the burgers come served in freshly-baked corn bread just like Munchtown's smokees (hot dogs)," Carlo informed.
Food is something you associate with family, relatives and friends as it unites us with each other while strongly forging our relationships. I was happy to reconnect with the La Sallian gentleman cum businessman Carlo Calma-Lorenzana who is working so hard these days that he humorously describes himself as on the verge of becoming an absentee father of his young family. Dr. Isel Bayuga-Yu and husband Albhy became my godchildren when they got married in Shinto rites in Tokyo last year with about 40 Davaoenos in attendance.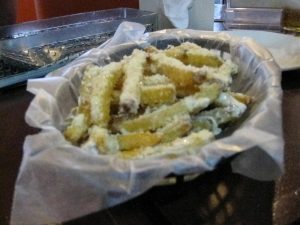 "Goodness, Munchtown is just across our clinic but we never got to eat here. Now we know better. The food is delicious, the service quite friendly and efficient. Meeting the professional Carlo C. Lorenzana for the first has convinced us to have Munchtown cater our launching event for a French skincare line. What a big help this chanced encounter with Carlo has proven to be for us," Dr. Isel B. Yu commented.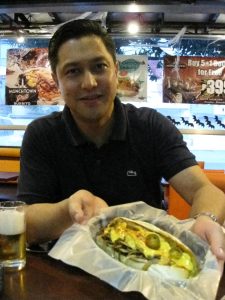 " I have gone a long way since my business partners in Manila and I opened our restaurants. Of course, conditions in Davao are different from that of Manila's. You always have to make sure your products are good and reasonably priced for your clients. My group has restaurants serving great food, provide good employment, and make money. The important lesson is, if you cannot provide great food, don't open a restaurant. In this business, you have to have a good understanding of your customers; and a strategy and good grasp of what you want to offer them for them to love it and keep coming back. You have to serve something new and imaginative, something completely unique— and that is a novelty of cuisines. Mind you, but passion plays a big part in being successful in what you do," reasoned the seasoned Carlo.
Do try Munchtown's famous best sellers such as the juicy Australian burgers, sliders, all natural beef smokees, pastas, Munchtown's signature fried chicken, freshly-baked thin crust pizzas, rice meals, grill platter, poutine fries, and many more. Satisfy your sweet cravings with Munchtown's creamy milk shakes such as the Oreo and salted caramel shakes. They're so good to the last slurp. Munchtown's dishes are a combination of tradition and innovation with nostalgic flavors that will remind you of the good old days with our grannies. Good news to all, Munchtown's prices are pocket friendly to all.