Fact. We are slowly losing traditional recipes and local ingredients to urbanization and homogenization of food. Instead of opening restaurants that serve heritage fares, western-influenced fastfood flood the market.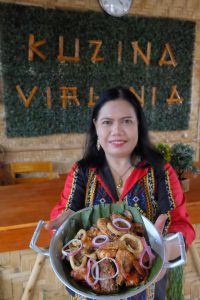 Fortunately, during the Sambuokan Festival in Mati City, Davao Oriental last week, we were introduced to a feisty lady who invested her time and finances on resurrecting local cuisines in her newly opened restaurant.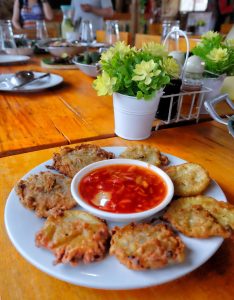 "We run a travel agency and our guests keep on asking where they can savor authentic Mandaya cuisine. That's somewhat inspired us to open Kuzina Virginia (named after their matriarch) a month and 3 weeks ago," businesswoman and restaurateur Angie M. David said.
David owns and manages VM David Travel and Tours, and is an active member of the city tourism council and the provincial tourism board.
"We are proud to be the first to serve authentic Mandaya food here in Mati using local ingredients and even using Mandaya names," she said.
Some of their popular fares in the menu include Manuk Kari Ayam (chicken cooked with curry and coconut milk), Panggang (grilled pork belly marinated in 4 different herbs), Paru-paru de Baga (pork entrails cooked with spices), Dasig Kamote (swet potato fritters), Igata (sliced banana heart in coconut milk), and Laksa sa Dagat (shrimp wrapped and cooked in banana leaves).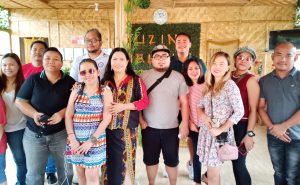 "Mandaya cuisine is characterized as spicy since we love to use 'dumang' (chili powder). We also use a lot of local herbs, coconut milk, and seafood – everything that nature provides us," shared David.
The pièce de résistance of our meal at Kuzina Virginia was definitely their Lut Mati, a pork dish cooked inside a bamboo pole, also known as "nilutlot" in other communities.
"For Lut Mati, we use a cup of rice, lemongrass, various herbs and pork meat, which we cook for 4 hours. Cooking it inside the bamboo pole locks in the flavors of our ingredients," David disclosed.
It also has two other variants, Lut DavOr, which uses native chicken and shrimp, and Lut Dahican, which uses squid, crabs and shrimps.
We capped our satisfying meal with their local desserts: Pudding de Mati (pudding with coconut strips and raisins), Kape Mais (corn coffee), and my new favorote, their refreshing Tuba Shake (young coconut wine, ice blended with local tablea).
"This is also our humble way of promoting our culture and industries in Mati," David added.