Host communities of power plants in the country now have easier access to their financial revenue shares, thanks to new regulations issued by the Department of Energy (DOE).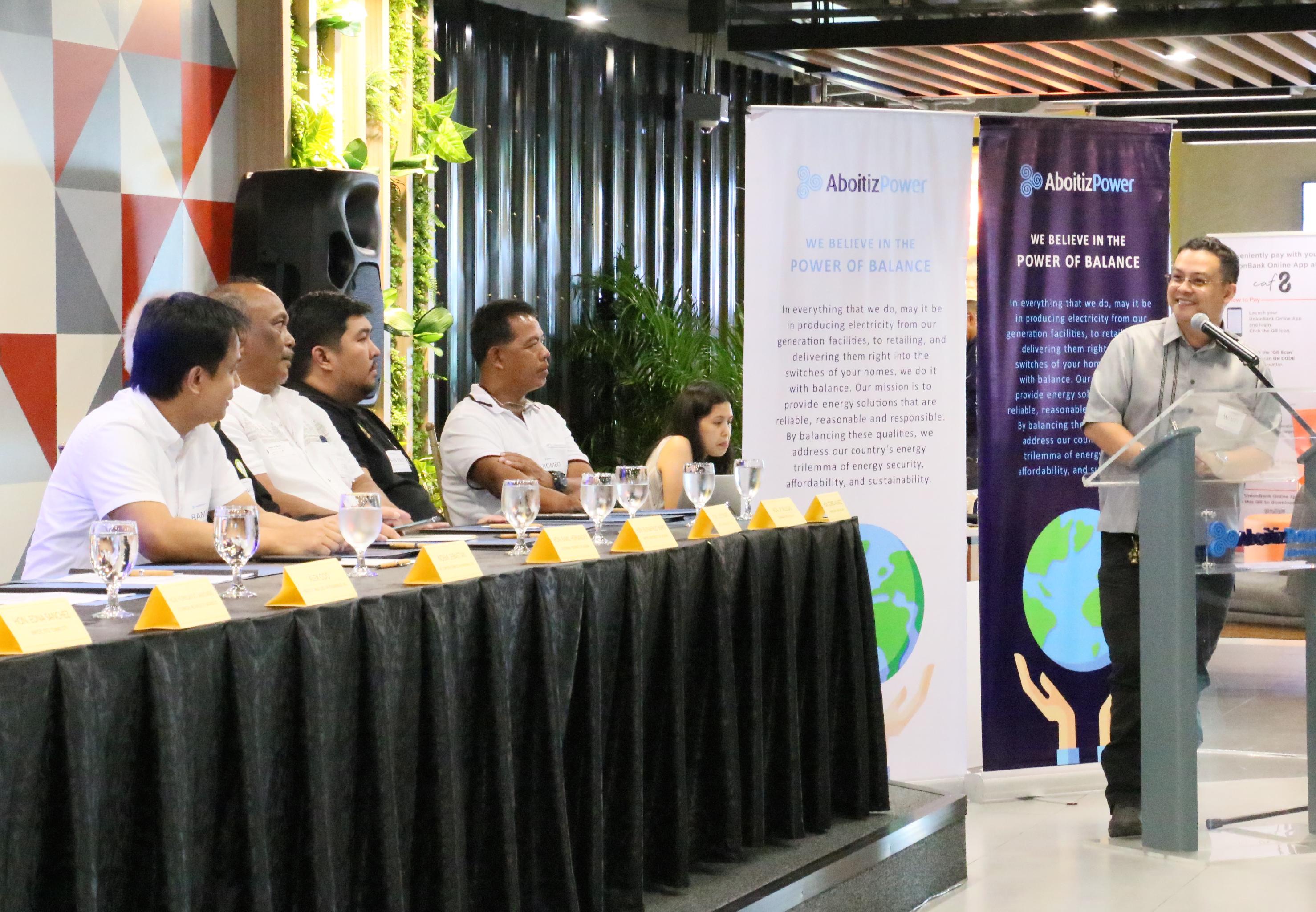 On September 5, AboitizPower subsidiaries AP Renewables, Inc. (APRI) MakBan, Therma Mobile, Inc. (TMO), and SN Aboitiz Power (SNAP) signed a memorandum of agreement (MOA) with their respective beneficiaries on the revised provisions of Energy Regulations 1-94 (ER 1-94), introducing the direct remittance of financial benefits to host communities for their immediate utilization.
DOE Undersecretary Felix William B. Fuentebella urged the local government units involved in the signing ceremony to maximize their financial benefits from ER 1-94.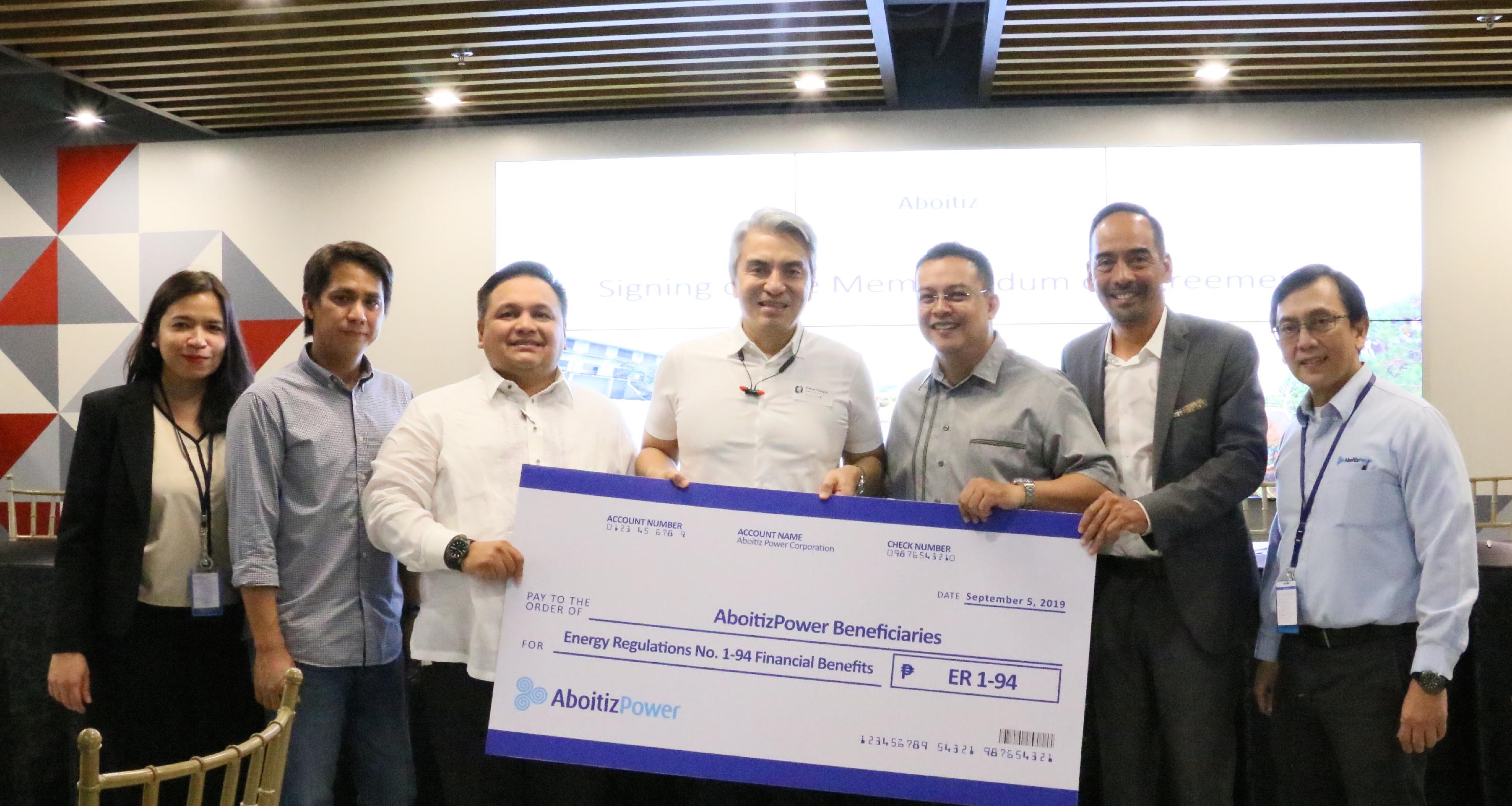 "Ipagkalat n'yo sa mga kababayan n'yo na ang laki ng benepisyong nakukuha n'yo sa pag-host ng power plants. You're operating (a business) na kilowatt-hour ang benta. Wag po kayong papayag na may matumbang poste dahil hihina po ang kita n'yo. Wag po kayong papayag na may maputol o matirhan yung poste ng NGCP sa ilalim dahil mapuputol po yung supply n'yo ng pera para sa community n'yo. Sa pagpirma ninyong ito, diretsong mapupunta sa inyo ang pera," Fuentebella said in a speech.
Through DOE Department Circular 2018-08-0021, power generation companies can now directly download the ER 1-94 fund to their host communities. Streamlining the release of funding will ease the process of implementing projects that benefit the host communities.
APRI MakBan, TMO, and SNAP are set to turn over to their host communities P26.6 million, P1.3 million, and P10.5 million, respectively.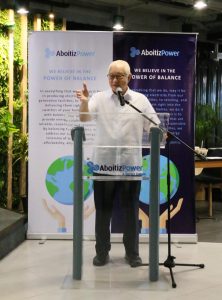 In 2018, AboitizPower generated P171 million ER 1-94 funds based on the total attributable energy sales of its various generation facilities across the Philippines. The funds will soon be turned over to its other communities all over the country.
"Today's event is a prime example of real partnership and teamwork between AboitizPower, our local host communities, and the Department of Energy. I am sure our partnership and collaboration will not end here. There are still a lot of things that we can do, and a lot of things that we can achieve when we work together," AboitizPower Chief Operating Officer Emmanuel V. Rubio said.
The ER 1-94 program is a policy under the Department of Energy Act of 1992 and Electric Power Industry Reform Act of 2001 (EPIRA) which stipulates that host communities will get a share of one centavo for every kilowatt-hour (Php 0.01 / kWh) sold by power generation plants operating in its area.
The signing ceremony of APRI MakBan and TMO was held at NAC Tower, Bonifacio Global City, Taguig City. It was a kickoff event for a series of MOA signing ceremonies across other AboitizPower business units all over the country. Meanwhile, SNAP held simultaneous signing activities in Benguet and Isabela also on September 5.
The ER 1-94 fund can be used by host beneficiaries for the electrification of areas or households that have no access to power, development and livelihood programs, as well as reforestation, watershed management, health, and environmental enhancement initiatives.
"Let us all work together to further strengthen our partnership so we can maximize opportunities moving forward for the ultimate benefit of the communities we serve," AboitizPower Generation Group Chief Operating Officer Felino M. Bernardo said.
In attendance during the event were LGU officials from Batangas led by Gov. Hermilando Mandanas, from Laguna led by Gov. Ramil Hernandez, and from Navotas City led by Mayor Tobias Tiangco.
Department of Energy Undersecretary Felix William B. Fuentebella (third from right) awards the ceremonial cheque for the ER 1-94 funds from AboitizPower, led by Chief Operating Officer Emmanuel V. Rubio (second from right), to Navotas City Mayor Tobias Tiangco (center).
Batangas Governor Hermilando Mandanas, in his message, thanks the Department of Energy for their efforts in making the ER 1-94 funds, from generation companies like AboitizPower, more accessible to local host communities.
About AboitizPower
AboitizPower is the holding company for the Aboitiz Group's investments in power generation, distribution, and retail electricity services. It advances business and communities by providing reliable and ample power supply at a reasonable and competitive price, and with the least adverse effects on the environment and host communities.
The company is one of the largest power producers in the Philippines with a balanced portfolio of assets located across the country. It is a major producer of Cleanergy, its brand for clean and renewable energy with several hydroelectric, geothermal and solar power generation facilities. It also has thermal power plants in its generation portfolio to support the baseload and peak energy demands of the country.
The company also owns distribution utilities that operate in high-growth areas in Luzon, Visayas, and Mindanao, including the second and third largest private utilities in the country.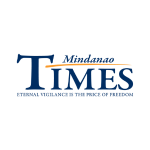 Advertiser posts are paid posts published by Mindanao Times. For inquiries, message us at our Facebook Page, www.facebook.com/MindanaoTimes.