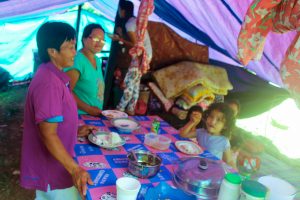 Tulunan, North Cotabato – The smell of sardines permeated in the five-by-six-meter tent where Yolanda Emping, 56, and her children's families were staying in Barangay Paraiso here. It was what they had for lunch and they were not complaining.
The local government had been prompt in giving relief goods to them and the other 3,818 family-evacuees. They were in fact having fun counting the number of children who were staying in their tent as matriarch Yolanda could not readily tell how many grandchildren she has with her. They finally got it right with the figure of four families with a total of nine children and six adults. The youngest of the children was an eight-month old baby. Friday was their 19th day living in their tent.
"Dili usa kami mouli samtang ga-uyog pa ang yuta (We will not yet go home while the earth is still shaking)," Emping said. Her reason: "Mura mi'g mabuang kung gauyog ang yuta ug naa mi sulod sa balay (It's as if we'd lose our mind when the earth shakes and we are inside the house)."
She added, "Bahala'g tinuig (Even if this will last for years.)!"
Amid the laughter, the fear was palpable. Speaking in Visayan, Emping recalled her experience:
"When the first earthquake struck (Oct. 16), we stayed home, thinking it will soon pass. However, the second time it happened (Oct. 29), we decided to evacuate as we did not feel safe anymore and we needed to be with other people for assurance and community support. The third time it happened (Oct. 31), we are already in the evacuation center.
"When the quake happened, I tried running for safety, but I cannot keep my balance. It was like I was drunk and I fell hard on the ground. I was afraid of falling because people say that when you fall down during quakes and your head hit the earth hard, you will get crazy.
"The ground was moving like waves and produced dusts like fogs."
Worried, Emping added that if the quake returns, "Ambot na lang (I would not know what to do anymore.)"
Damaged houses and tent sitios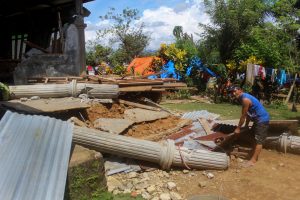 Like many poor farmers, it took Constancio Urbeta, 59, years to build the semi-concrete house of the family in Barangay Paraiso in this town that had been the epicenter of the Oct. 16 and 29 earthquakes. (Neighboring Makilala town was epicenter of the Oct. 31 quake.) His house has two bedrooms made of wood and a receiving area and kitchen made of concrete. This house was the fruits of his labor, farming a three-hectare rubber plantation that gave him P5,000 income every 15 days. Including the cost of labor, he estimated his house to value at P800,000 in the current price. It collapsed during the second earthquake.
"Wala mi magtuo nga mabuhi pa kami (We did not believe that we will survive)," was how he described the moment the second quake happened.
"Pagkakita nako nga nahugno ang akong balay, mura pud nahugno ang akong kasing-kasing (When I saw my house collapse, my heart felt like collapsing as well), Urbeta said. "Para sa amo, dili sayon ang magtukod og balay (For us, it is not easy to build a house)," he added.
Urbeta knows that the way forward is to reconstruct his house. "Apan, wala kami'y kwarta sa karon (However, we do not have money now)," he said. He explained that his earnings now is just enough to buy rice
In addition, the uncertainty of when the quakes will stop from occurring hinders Urbeta from reconstructing his house. He said, "Kung mahibal-an lang unta nga wala na'y linog, pwede na magbuhat og balay (If only we can know for sure when the earthquakes will stop, we can already reconstruct the house)."
For now, Urbeta's family is staying in a tent along the road by his house. This household situation can be seen in the 29 barangays affected by the series of quakes in Tulunan. Families are pitching tents near their houses, preferring to sleep outside their homes.
The Municipal Disaster Risk Reduction and Management Council (MDRRMC) of Tulunan reported a total of 3,818 families affected by the series of earthquakes in October. Of this number, 2,370 houses were partially damaged and 1,448 were totally damaged.
In the less reported municipalities of Arakan and Magpet of North Cotabato, the MDRRMC reported 21 and 557 partially damaged houses, respectively.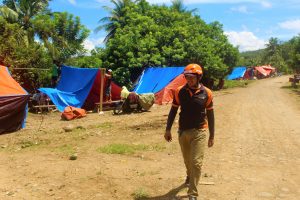 North Cotabato Acting Governor Emmylou T. Mendoza, as quoted by news reports, estimated the number of affected families throughout the province at 14,000 households. She noted, however, that the figure may change as the earthquakes are happening progressively.
In Regions XI and XII, the National Disaster Risk Reduction and Management Council reported over 30,045 people affected in 72 barangays, of which almost 12,800 are in 19 evacuation centers, while 6,850 are staying with host families, as of October 31.
Long haul and incremental damages
"We are preparing for the long haul," said Tulunan Mayor Reuel P. Limbungan when asked about the timeline towards normalcy.
He noted that because of the series of quakes, the damage to households and building structures also incrementally increases. He explained that the houses that were partially damaged during the first quake have incurred additional damages in the succeeding temblors.
In the Oct. 16 quake, the number of damaged houses in the municipality was reported at 1,231 units. By the time of the third quake, the number increased by over 200 more. The number of those affected increased from 8,000 individuals to over 16,000.
"Leadership is vital at these times," said Tulunan Vice Mayor Maureene Villamor, as residents observed that the response of the Tulunan government had been prompt.
"While we may have some lapses in disaster preparedness and response, I believe that we are stepping up," Villamor said.
Tulunan has a 24/7 Incident Command Post and System established immediately after the occurrence of the earthquake. Those needing information are readily given data that are updated regularly as reports from the field gets in.
Limbungan said that the municipal government has approved the release of P5 million as cash support to all victims of the earthquake in the municipality.
The Philippine Institute of Volcanology and Seismology (PHIVOLCS), in an advisory "Primer on the 29 October 2019 Magnitude 6.6 Tulunan, Cotabato Earthquake" published in its Facebook page last October 29, did not discount an earthquake magnitude higher than 6.6 from happening again in the area.
The primer noted: "We expect small- to moderate-magnitude earthquakes to occur in the epicentral area which may continue for several days to weeks, some of which may be felt. Although the occurrence of another earthquake higher than M6.6 cannot be discounted, the possibility of it coming from the same source area is low."
PHIVOLCS explained that the "Central Mindanao (SOCCSKSARGEN Region), which includes Cotabato, is one of the seismically active regions in the country because of the presence of several active faults in the area which include the M'lang Fault, Makilala-Malungon Fault, North Columbio Fault, South Columbio Fault, and the western extension of the Mindanao Fault (Cotabato-Sindangan Fault). Cotabato Trench is also a major source of earthquakes which can affect the region. In addition, there are other nearby local faults, some of which may be covered by recent deposits, and could be sources of small to strong magnitude earthquakes."
PHIVOLCS encourage people to get information for earthquake bulletins, volcano updates, hazard maps, and other information on earthquakes and volcanoes from their website, Facebook page and Twitter, as follows: website at www.phivolcs.dost.gov.ph, Facebook (/PHIVOLCS) and Twitter (@phivolcs_dost) accounts. Earthquake observations may also be reported to DOST-PHIVOLCS at telephone numbers (+63 2) 8929-9254 and (+63 2) 8426-1468 to 79, local 307 and 308.
By Jules L. Benitez / MindaNews