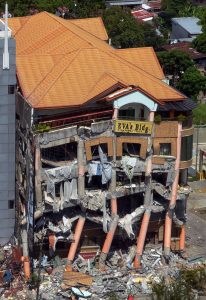 Classes in all levels in both private and public education institutions, as well as works in local government offices in the city will be suspended until Monday, Nov. 4, Mayor Sara Duterte said.
"All classes and (local government) works will resume on November 5, Tuesday, to assure that building employees and school administrators can properly assess their infrastructures," the mayor said following the series of earthquakes that hit the island.
Duterte also encouraged the private sector to do the same.
The mayor also advised residents to stay alert and don't panic when calamities like this occur.
"Watch out for collapsed buildings, and fire incidents when aftershocks occur. Always inspect buildings and damages, and call for infrastructural engineers for assistance and help," Duterte said.
She said the City Engineers Office (CEO) has been assessing bridges, buildings and infrastructures for possible damage.
Reports from the CEO revealed that the two major bridges, Bankerohan Bridge and Bolton Bridge, were seen with damages.
The Bankerohan Bridge was assessed by the Department of Public Works and Highways (DPWH) together with the CEO because cracks in some parts of the bridge are noted. The Bolton Bridge can only hold 20 tons as there are damages in its diaphragm wall below the bridge down to its stream side.
CASE
With occurrence of strong quakes, Duterte advised the property developers to listen and heed to the recommendations of the City Engineers Office (CEO).
The mayor said the city will file legal action against the management of the collapsed Ecoland 4000 Condominium if they find evidence that the latter neglected the recommendation of condemnation issued by the CEO last Oct. 30.
Duterte said she is discussing the matter with the City Legal Office.
The mayor said the administration of Ecoland 4000, in their initial talk, claimed they imposed force evacuation to their building occupants.
The mayor said they sent three written notices to the administration of Ecoland 4000 prior to its collapse on Oct. 31.
Nine people were hurt during the collapsed of Ecoland 4000.
Affected Ecoland 4000 residents can use the evacuation site in Barangay Los Amigos, Tugbok District.
By Samantha T. Burgos and Aileen Sampang