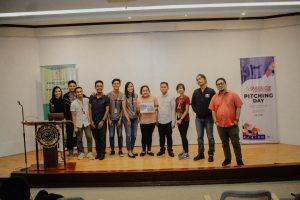 Three business ideas stood out in the successful first run of the UMErge Startup Challenge last October 25 at the UM Matina AVR 2, earning the teams cash prizes and a six-month partnership each with experts at the UMAsenso Hub to further develop their business idea.
UMAsenso Hub is the University of Mindanao's tech startup development facility in partnership with the Department of Science and Technology.
Taking home first prize was project Aqua Cultura by participants from the College of Engineering Education (CEE).
It is an urban gardening system using the aquaponics method that is targeted towards private farms and nature park owners; and will utilize an online monitoring system for various sensors such as soil moisture, humidity, water temperature, pH level sensors and water level, according to a briefer on their project.
"Labor cost will be lessened and [there will be] improved productivity of work. Connected components to the internet can be accessed by the users of the system," boosting agrotourism and improving the operations of the farming business of those who will utilize Aqua Cultura, it also stated in their briefer.
Aqua Cultura is their answer to creating profit and job-generating ideas that can address improvements in Agriculture; with the other target areas in the UMErge competition including Disaster Risk Reduction, Environmental Sustainability, Health, Tourism, and Transportation.
Team Aqua Cultura is composed of 5th-year Electrical Engineering Students Jifford Rois T. Hernan, Janna Pauline G. Pueblas, Mil Albert B. Torres, Janice B. Lacaba, and Harly Brix P. Jabahab.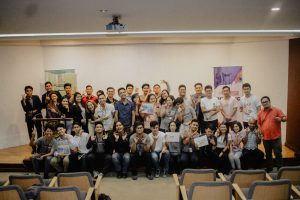 The first runner was project MediCEEna, also from students of CEE, which plans to utilize the San Francisco plant to create medicine for those with the liver disease cirrhosis.
Meanwhile, project CEE-Mento was second runner up, and they propose using plastic wastes and durian husks, which they deem a "common waste product in the locale," to create a waste-utilizing and sustainable cement mixture that can then be used for construction projects in the city.
Judges of the UMErge Startup Challenge are the following:
DOST XI Research Specialist Jonathan Victolero, who also functions as the current head of the ICT Section, Disaster Risk Reduction and Management Focal Person, and Project Coordinator for various projects of the DOST XI, as well as being the Information System Planner and ISO 9001 Internal Quality Auditor of the same institution.
Jan Koichi R. Dayanan, who is the lead for Research and Development of MSTI/Traxion Technology and the Davao Chapter Head of Developers Connect; founder of blockchain developers, developer and technical manager of OBTAM for Electronics Application from 2013 to 2018, and the web developer of Satoshi Citadel Industries with a focus on web development using Ruby on Rails, assigned to a remittance service using Bitcoin as a backbone for transactions, and works on web development using NodeJS for backend and React/Redux on Frontend.
Then there is the university's own Clyde Abner Valdez, a lecturer of marketing, real estate, and entrepreneurship from the College of Business Administration Education (CBAE). He is also a multi-awarded registered real estate broker credited as the coach behind the back-to-back championships of CBAE students in the 2018 and 2019 Business Idea Development Awards of the Philippine Chamber of Commerce and Industry. He also had a stint as a consultant for business and marketing of several local business television shows.
Lastly, there is UM Chemical Engineering alumnus Neil Anthony Jamili, a multi-awarded researcher and speaker who is the university's first exchange student for the engineering program under the ASEAN International Mobility for Students to King Mongkut's University of Technology Thonburi in Bangkok, Thailand; and who has represented the Philippines in the United Nation's Hult Prize 2018 at Ecuador. Mr. Jamili has traveled extensively across Asia and beyond as a freelance natural science researcher. He currently sits as the Research and Development Supervisor of RAD Green Solutions Corporation and the point person of Filipino Inventors Society in Mindanao.
The UMAsenso Hub hopes to hold more activities like UMErge, with the aim of developing and launching 10 business ideas in their first year of operation.