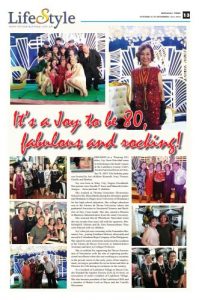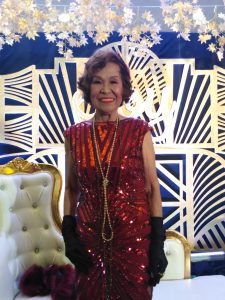 Dressed in a "Roaring 20's attire, Joy Jison-Naividad came in frolicking to the band's music at the Ladislawa County Club's Azotea Function Room on October 18, 2019. The birthday party was hosted by her children Kenneth, Ivan, Noreen, Giselle and Shakira.
Joy was born in Silay, City, Negros Occidental. Her parents were Serafin P. Jison and Manuela Golez-Amigos – Jison and had 13 children.
She studied at Thomas Earnshaw Elementary School in Sta. Mesa Manila during her elemntary grades and Mindanao Colleges (now University of Mindanao) for her high school education. Her college education was at the Ateneo de Davao University where she graduated Associate in Secretarial Science and Bachelor of Arts, Cum Laude. She also earned a Masters in Business Administration from the same University.
She married David Whitehorn Natividad when she was twenty-four years old with her sponsors, Mrs. Soledad R. Duterte and Dr. Alex Panuncialman. They were blessed with six children.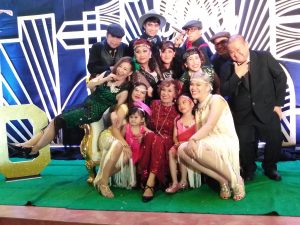 Joy's first job was a secretary at the Fernandez-Hermanos, Inc., joining Southern Motorss afterwards and moved to Columbian Rope Company of the Philippines. She opted for early retirement and joined the academe at the Ateneo de Davao University as Administrative Assistant and later as
Colleges Professor.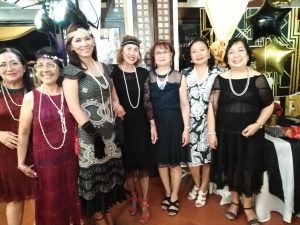 She is credited for organizing the Davao Association of Secretaries with the aim of capturing professional excellence when she was working as a secretary in the private sector in the early years of her employment, serving as president for seven terms and later as Director for Life during its existence in the country.
As a resident of Ladislawa Village in Davao City, she founded the Ageless Society (Life @ its best), an association of senior residents of Ladislawa Village. She also became president of the Ladislawa GKK and a member of Bukas Loob sa Diyos and the Cursillo Movement.