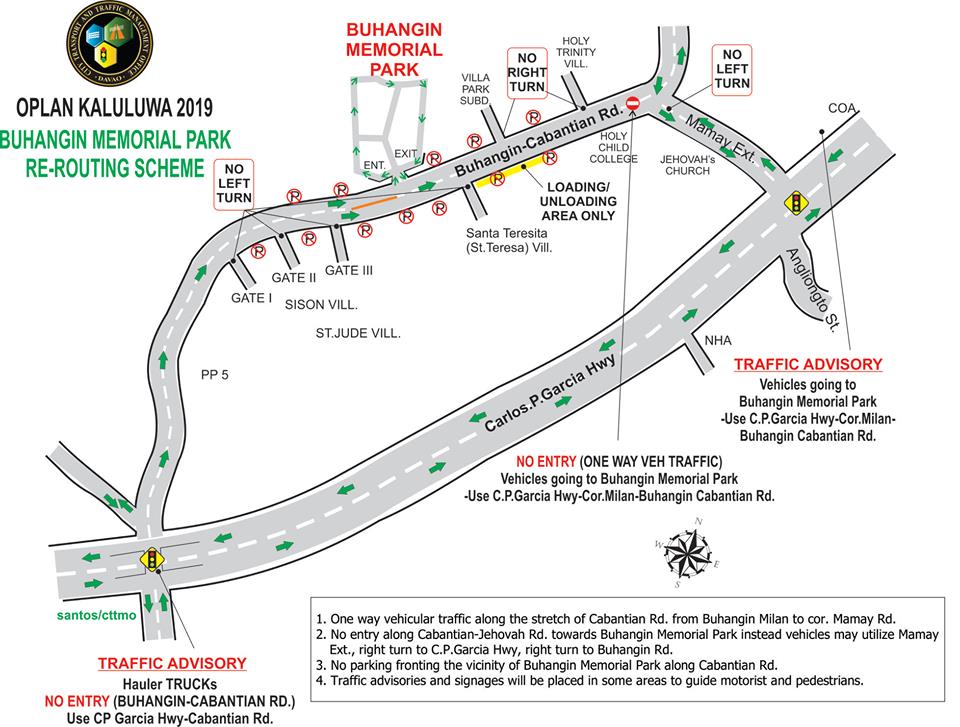 The City Transport and Traffic Management Office has advised rerouting schemes within areas in Davao Memorial Park, San Pedro, Forest Lake, Orchard Memorial Park, Masonic, Wireless, Catholic Cemetery and in Chinese Cemetery.
Vehicles traveling down MacArthur Highway in Matina where Davao Memorial Park is located are advised to use the two inner lanes provided for vehicles going to South.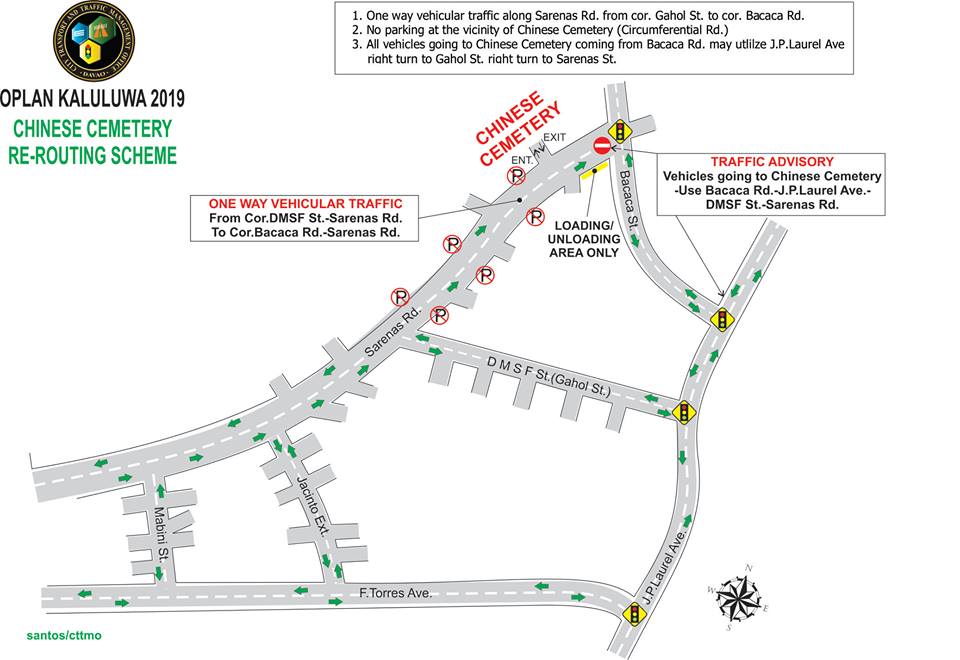 Southbound trucks from Quirino shall be using Sandawa Road to Quimpo Boulevard, down to McArthur Highway, while all utility buses from Ma-a Road shall utilize McArthur Highway to Quimpo Boulevard down to Sandawa Road.
The outer most lane along McArthur Highway going south must be utilized only for vehicles going inside Davao Memorial Park.
Trucks coming from north and going to south are advised to use the C.P. Garcia Highway or the Quimpo Boulevard route. Left-turns will not be allowed for vehicles coming out of Davao Memorial Park as they are advised to take right turns instead to Quimpo Boulevard route.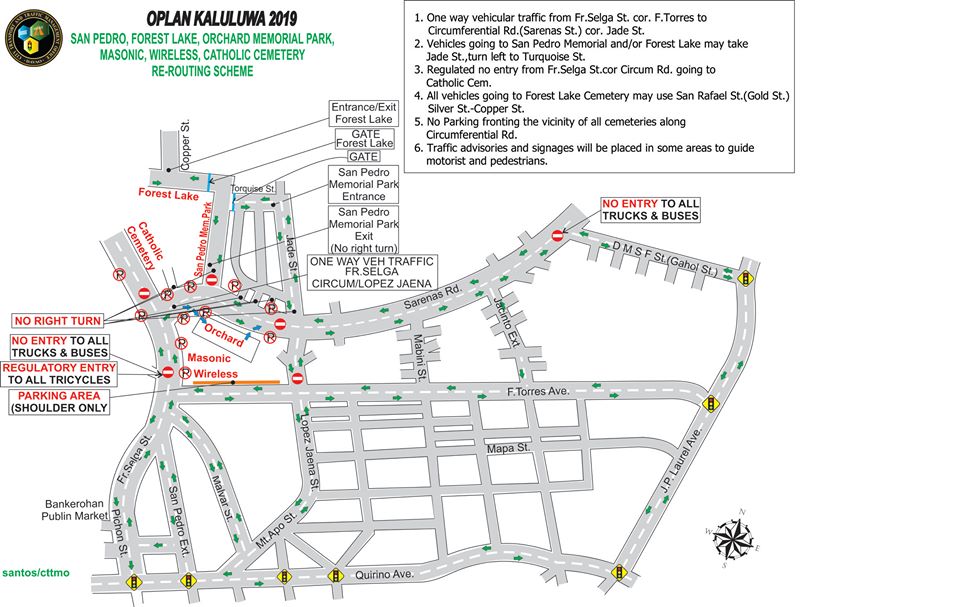 The sidewalk lane along McArthur Highway is provided for people going to Davao Memorial Park, and vendors are placed in front (northbound) of the memorial park. The loading and unloading areas are designated along the portion after the Alexian Brothers Health and Wellness Center.
Vehicles bound to San Pedro Memorial and Forest Lake may take Jade St. and then turn left to Turqouise St. There will be a one-way vehicular traffic from Fr. Selga St. in Bangkerohan, corner F. Torres St. to Circumferential Road (Sarenas St.) down to corner Jade St.
All vehicles going to Forest Lake Cemetery may use San Rafael Road (Gold St.), to Silver St., and down to Copper Street.
There will be no entry regulated from Fr. Selga St. corner to Circumferential St. going to Catholic Cemetery.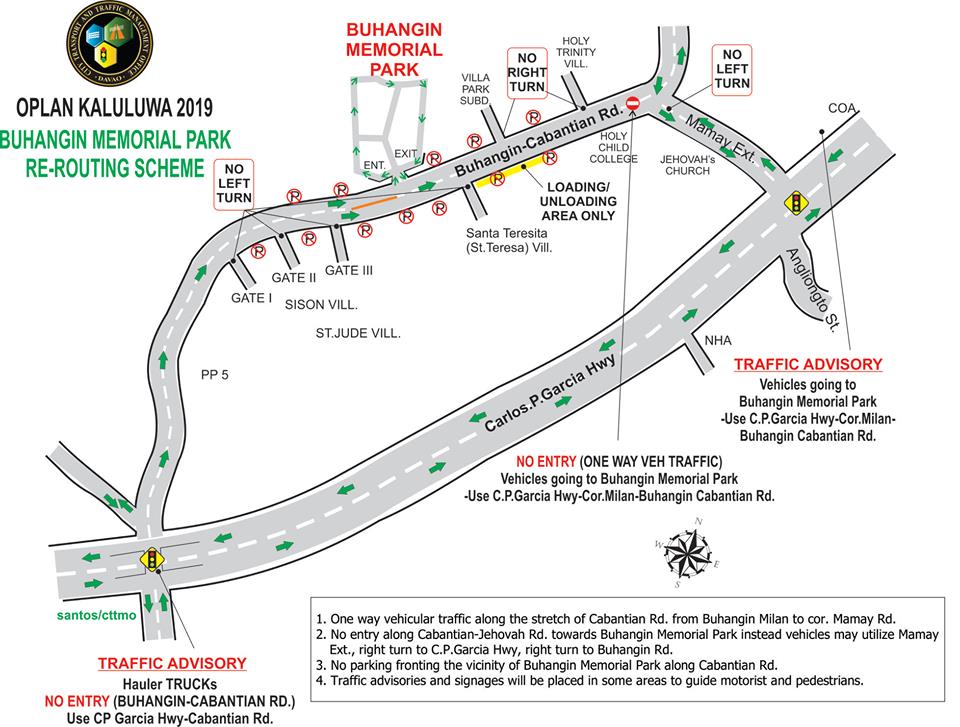 All vehicles traveling to Chinese Cemetery coming from Bacaca Road may utilize J.P. Laurel Avenue, and then right turn to Gahol St. and Sarenas St.
The CTTMO said parking along cemeteries in Circumferential Road is prohibited.
Traffic advisories and signages will be placed along mentioned areas to guide motorists and pedestrians.