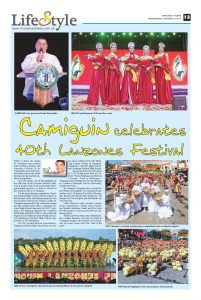 Rain or shine, the streets of Camiguin were packed with excited spectators last Saturday, October 26, as contingents gave their terpsichorean best for the street dancing and ground presentation competition.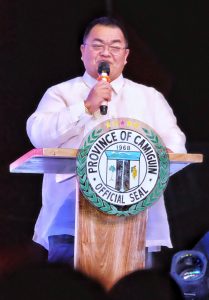 The said events, one of the highlights of the 40th year of the Lanzones Festival, gathered 8 groups from local government units, government agencies, as well as schools in the island province of Camiguin.
For the street dancing competition, Yumbing National High School with the support of the business sector and national agencies won the top plum, followed by Fatima College of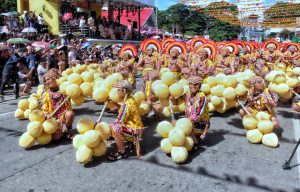 Camiguin supported by the contractors group and the congressional office; Camiguin National High School supported by LGU Catarman; LGU Mahinog supported by Columbia St Michael. Parish HS, Sixto A Abao National High School, Mahinog National High School; and Mambajao National High School supported by LGU Mambajao.
For the ground/tableau presentation, Yumbing National High School also won the top place, followed by LGU Mahinog, Fatima College of Camiguin, Mambajao National High School, and Camiguin National High School.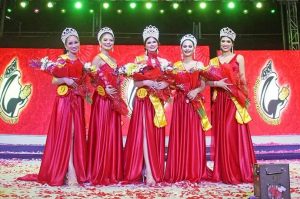 Special awards were also given to LGU Mahinog for Best in Costume "Bai ta Buahanan and Best in Costume "Datu ta Buahanan". Yumbing National High School won the Best in Costume Contingent, Best in Musicality, and Best in Props.
By evening, Camiguin also crowned its new Mutya sa Buahanan Cris Antonette Teaño and her court, 1st Runner-Up Marla Alforque, 2nd Runner-Up.Sheena Mae Balansag, 3rd Runner-Up Nice Lampad, and 4th Runner-Up Ciara Riveral.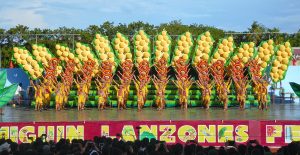 Other festival events include various sports competitions, variety shows featuring Manila celebrities, bands and DJs, trade fair that features a free lanzones-all-you can, among others.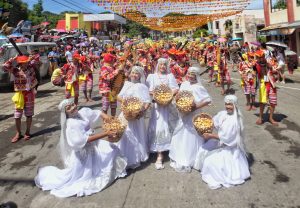 While it grows in other parts of Mindanao, the sweetest lanzones can only be found in Camuguin, thanks to the island's rich volcanic soil. So sweet, locals call it the "fruit of the gods".