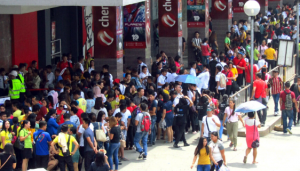 Two malls and two public schools in the city sustained major damage following the earthquake that hit parts of Mindanao yesterday morning.
Based on the initial reports from the Davao City Public Safety and Security Command Center, the Felcris Centrale located at Quimpo Boulevard acquired major visible cracks in its building while the Gaisano Grand in Toril Poblacion attained major damage.
The Catalunan Grande Elementary School and the Catalunan Grande High School also sustained major damage.
The Ecoland 4000 Condominium in Ecoland sustained major damage.
Cracks at the southbound of Bolton Bridge in Quimpo Boulevard were also reported.
But Lyndon Ancajas, training officer of the City Disaster Risk Reduction and Management Office (CDRRMO), said "bridges are still passable, the City Engineers Office checked it already."
Moderate cracks at the building of Metro Bank in Uyanguren were also noted.
Commercial establishments with reported minor damage included Gaisano Mall in Bajada, Lots for Less in Matina Aplaya, Deco Arts Ecoland and Palmeto Building in Barangay Ma-a.
Schools that sustained moderate cracks on buildings and ceilings included Erico Nograles National High School, Cabantian National High School, Baguio Proper High School, Baguio Proper Elementary School, and Daniel R. Aguinaldo National High School.
Other schools that reportedly sustained minors damaged – cracks on wall and ceilings – included Dona Pilar Elementary School, Mintal Elementary School, Calinan Elementary School, Matina Pangi Elementary School, Magtuod Elementary School, Manambulan Elementary School, Ma-a Elementary School, Tacunan Elementary School, Aflect Elementary School, Corquera Elementary School, Cabantian Elementary School, Wilfredo Aquino Elementary School, Matina Biao Elementary School, Gumalang Elementary School, Talomo Elementary School, Bustamante Elementary School, Bayabas Elementary School, Bago Gallera Elementary School,
Sto. Nino National High School, Don Enrique Bustamante National High School, Bustamante High School, Matina Biao High School, Dona Carmen National High School, Tacunan National High School, Mintal Comprehensive High School, Calinan High School, Ma-a National High School, University of Southeastern Philippine in Obrero, SPED Bangkal and Holy Cross of Mintal.
Other government infrastructures that sustained minor damage included the overpass along MacArthur Highway in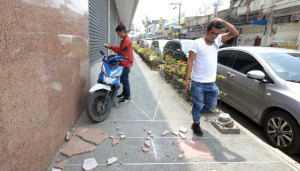 Barangay Matina Crossing, Marilog Gym, the barangay halls of Wilfredo Aquino in Agdao District and Tagurano in Toril District, and the Davao City-UP Mindanao Sports Complex.
An abandoned stall at Toril Public Market collapsed.
The City Information Office said "a massive rapid assessment" is conducted by the CDRRMO in coordination with City Engineer's Office to assess buildings noted with damage.
"As of now we have no reported dead or missing, no major incidents. There are some who collapsed because maybe they are nervous and such," Ancajas said.
DCPO reported that at least seven persons were hurt.
Sherwin Bacalla Cuico, 38, and Jane Yabo Tagalo, 36, the collection supervisor and bookkeeper of Tagum Cooperative-Mintal Branch, are now both in stable condition after they were brought to the Davao Adventist Hospital in Bangkal. A signage of Abrasaldo building was detached and hit the two victims.
Five students of Nino National High School were also treated by the barangay disaster team as they fainted during the quake.
Hospitals were also monitored to assure that the buildings were damage-free.
According to Dr. Benz Valdez, Southern Philippines Medical Center (SPMC) Incident Commander, minimal cracks were only found in the Institute for Women and New Born building inside SPMC.
"There was no major structural damage. I'm happy that this hospital (SPMC) was made strong," he said.
He also said that one hundred patients were transferred to the orthopedic building where operations are still on going.
"It is our Standard Operating Procedure (SOP) that when there's assessment already, we have to actually transfer the patients to other place as well, meaning to say we have an ortho building right now. Initially it is our SOP as part of our emergency response is to identify who will be transferred and operated first," he also said.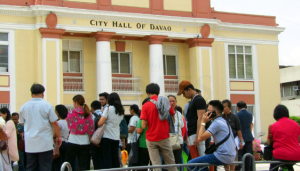 He added that there will be no canceled emergency operations and critical patients are still to be taken care of.
Areas in Buhangin, Ma-a, Obrero, Toril and Bangkal were reported by Davao Light to have experienced power outage.
Classes and works in the city government and private sectors in the city were also suspended.
City Mayor Sara Duterte noted that the earthquake may have caused structural and electrical damage to school buildings, making them unsafe for learners.
She also instructed all school owners, teachers, and other school personnel to immediately subject school structures to safety inspection with a qualified engineer.
Duterte said that if they find building defects that are dangerous and need repair, they should immediately condemn the area and not allow students to use the same.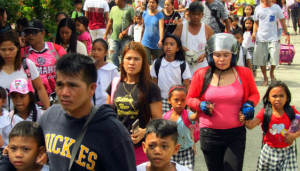 She added that the suspension of classes today shall be on a case to case basis and shall depend on the individual schools' announcement.
Reports from the Philippine Institute of Volcanology and Seismology (Phivolcs) revealed that the magnitude 6.6 tectonic earthquake originated 25 kilometers southeast of Tulunan, North Cotabato at a depth of 7 kilometers at 9:04 a.m. yesterday. It was the second major quake in the area in a span of two weeks.
Intensity 7 was felt in Tulunan and Makilala in Cotabato, Kidapawan City and in Malungon, Sarangani, intensity 6 was felt within Davao City and Koronadal City while General Santos City and Kalilangan, Bukidnon were rocked with an intensity 4 earthquake. (with reports from PNA/MindaNews)